The American Petroleum Institute -API- has written the specifications & classes for cement that oil and gas companies used in oil-well applications. You can find these specifications in "API Specifications for Materials and Testing for Well Cements", (API Spec 10).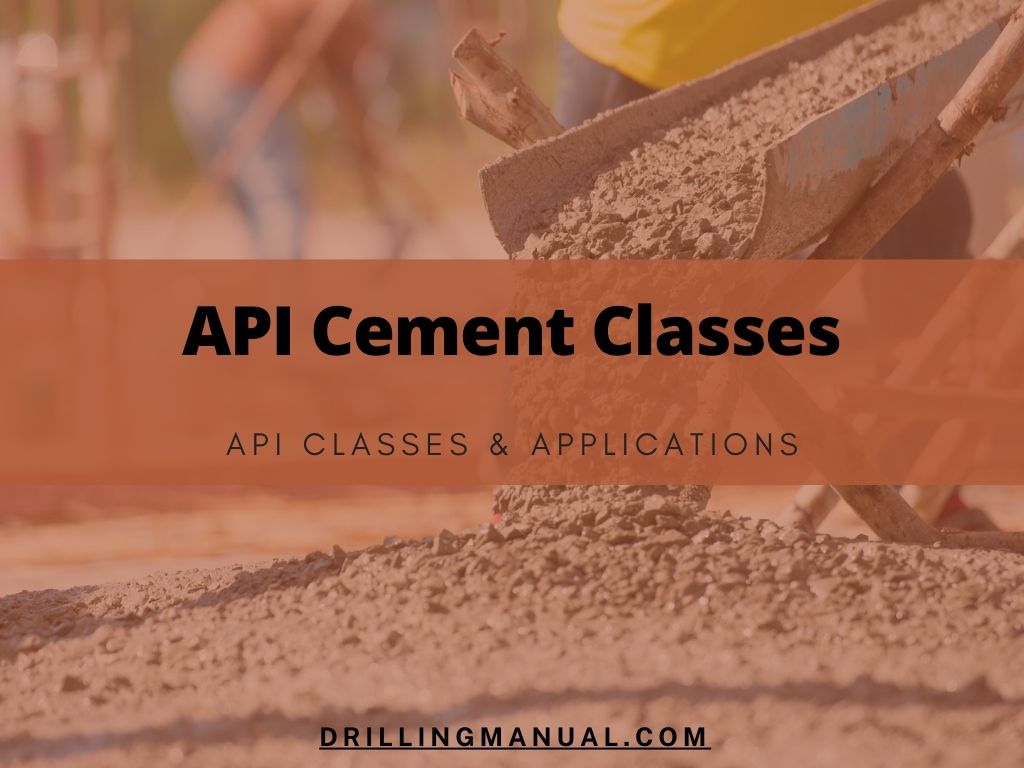 8 Major API Cement Classes
There are eight different API cement classes. Table 1 provides the classes and their applications. In table 2, you will find a summary of the cement chemical composition, grind, and special properties of some of these API cement. Most oil and gas experts use class A, C, G, or H.
| | |
| --- | --- |
| Class A | Intended for use from surface to a depth of  6,000 ft when special properties are not required. Available only in Ordinary type (similar to ASTM C150, Type I cement class). |
| Class B | Intended for use from surface to a depth of 6,000 ft when conditions require moderate to high sulfate resistance. Available in both Moderate type (similar to ASTM C150, Type II) and High Sulfate Resistant types. And has a lower C3A content than class A |
| Class C | Intended for use from surface to a depth of 6,000 ft when conditions require high early strength. Available in all three degrees of sulfate resistance (Ordinary type and in Moderate and High Sulfate Resistant types). This class is roughly equivalent to ASTM Type III. The C3S content and the surface area are relatively high |
| Class D | This API cement class is intended for use at depths from 6,000 to 10,000 ft and at moderately high temperatures and pressures. Available in both Moderate and High Sulfate Resistant types. (no longer used) |
| Class E | Intended for use at depths from  10,000  to  14,000  ft and at high temperatures and pressures. Available in both Moderate and High Sulfate Resistant Types. (no longer used) |
| Class F | Intended for use at depths from 10,000 to 16,000 ft and at extremely high temperatures and pressures. Available in High Sulfate Resistant types. (no longer used) |
| Class G | Intended for use as a basic cement from the surface to a depth of 8,000 ft as manufactured. With accelerators and retarders, it can be used at a wide range of depths and temperatures. It is specified that no additions except calcium sulfate or water, or both, shall be interground or blended with the clinker during the manufacture of  Class  'G'  cement.  Available in Moderate and High Sulfate Resistant types. It can be used with accelerators and retarders to cover a wide range of well depths and temperatures |
| Class H | This API cement class is intended for use as a basic cement from the surface to a depth of 8,000 ft as manufactured. This cement can be used with accelerators and retarders at a wide range of depths and temperatures. It is specified that no additions except calcium sulfate or water, or both, shall be interground or blended with the clinker during the manufacture of class H cement. Available only in Moderate Sulfate Resistant type. It can be used with accelerators and retarders to cover a wide range of well depths and temperatures. |
API Cement Classes and Applications
API Class
C3S%
C2S%
C3A%
C4AF%
Wagner Fitness
sq cm/gm
Property
A
53
24
8+
8
1,600 to 1,800
High Early Strength
B
47
32
5-
12
1,600 to 1,800
Better retardation
C
58
16
8
8
1,800 to 2,200
Low heat of hydration
D&E
26
54
2
12
1,200 to 1,500
Resistance to sulfate attack
G&H
50
30
5
12
1,600 to 1,800
Typical Composition and Properties of API Classes of Portland Cement