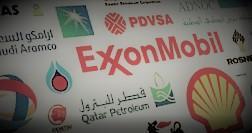 The oil and gas companies have integrated into today's energy marketplace. They have contributed to augmenting the global economy worldwide. These corporative firms play a significant role in providing cost-effective and high-quality fuel sources to ameliorate the living standards of society.
The Covid-19 pandemic has dramatically mitigated the supply of oil and gas reserves in the past recent years and left the communities looking for crude oil supplies. Also, it escalates the increasing dependency of nations on oilfield products. Here come the oil and gas companies that fix up the fuel shortage and provide vast reserves of petroleum.
The rating of the largest oil and gas companies list in the world is annually compiled on the basis of the Forbes Global 2000 rating. It also includes all the world leaders in the oil and gas market. The rating is compiled on the basis of an assessment of the indicators of profit, income, assets, and market value of companies. The table shows the names of companies, their residence (country), as well as the amount of profit for the year, taken from public financial statements. As an example, you can see representatives of Russia in the rating – these are two companies: Lukoil and Rosneft. In this article, you will be able to download the full list that has links to each oil and gas company and also a recruitment agency to help you in your job search.
Are you looking for the world's best petroleum organizations? Below is the list of top oil and gas companies in the world that generates substantial revenues and accelerates the production of oil and gas through their businesses
What does an oil and gas company do?
Oil and gas companies carry out the exploration, drilling, processing, and sale of oil and gas. Many of these organizations are integrated in order to overcome the high costs associated with entering this particular market. This means that they conduct all operations associated with the research, transport, and refinement of these natural resources. A large number of oil and gas companies are based in the United States. 
List of Top Oil and Gas Companies in The World
The oil and gas companies have an influential impact on the economic growth of the international energy market. According to research, the oil and gas companies in the US will generate 84 billion US dollars in brand value by 2022. Petroleum firms fulfill the rising global demand for oil and gas products and hail job opportunities for many job seekers. Let's discuss the top oil and gas companies in the world.
1.    Sinopec
Sinopec is a petrochemical company in China which is established in 1998. The main headquarter is incorporated in Beijing, China. When it comes to gas and oil production, this corporation is ranked the second biggest energy producer in China. Moreover, Sinopec generated revenue of 438.69 billion dollars and is the leading oil and gas enterprise globally.
Services
The company provides significant products and services in drilling operations, mud logging, and well logging activities. It provides technical mud logging equipment and tools to execute these procedures effectively. To make oil and gas exploration easy, Sinopec renders the latest exploration technology. Also, this petrochemical corporation is associated with providing geophysical equipment to accomplish drilling tasks proficiently in challenging conditions.
Sinopec's business includes oil refinery services, production and distribution of energy fuels, chemicals, lubricants, oil, natural gas, and other petrochemical products. It promotes the import and export of various oilfield products in different countries all over the world.
The main export offerings are drilling rig types, heat exchangers, drill pipes, casing, pressure vessels, coiled tubing, etc. High-quality pumping equipment, well-cementing tools, downhole, and wellhead apparatus are also manufactured by this top oil and gas company.
2.    PetroChina
PetroChina is a joint stock company which is established in 1999. This oil and gas production enterprise plays an efficient role in the global petroleum industry. In terms of revenue, PetroChina accounted for 280 .7 billion dollars in 2020. As a leading petroleum producer, it is one of the top oil and gas companies in the world. PetroChina pledges to provide high-quality products and ensures safety during its operations.
Services
The company is engaged in the production, distribution, and transportation of oil, gas, petroleum, chemical and energy products to boost global economic development. PetroChina provides innovative technology and technical oilfield services worldwide.
The company deals in oil and gas exploration, oil refinery development, distribution, and sale of petroleum, refined and chemical products. The main refined supplies include diesel, lubricants, jet fuel, etc. Also, PetroChina performs a significant contribution to drilling operations by providing drilling rig components and reliable equipment for operational accuracy.
Other offerings of the company include technology for methane reserves development in challenging geological situations. Also, it provides packaged technology for gasoline cracking and digital transformation to ameliorate oil and gas fields' productivity.
3.    Shell plc
Shell is an international oil and gas company which built as a result of an amalgamation of Shell transport and trading company with the Royal Dutch Shell group in 1907. It is headquartered in Hauge, Netherlands. It provides petroleum services worldwide in more than 70 countries with almost 80,000 employees. This company specializes in exploiting innovative approaches to excel in the global energy market.
Services
The company is an expert in providing products and services in oil and gas exploration, manufacturing, oil refinery, marketing, distribution, transportation, and production of oil/natural gas and other chemicals. Also, Shell offers deep water technologies to extract energy from offshore well drilling activities.
Moreover, this oil and gas firm fulfills the rising demands for liquified natural gas (LNG) and offers Prelude FLNG to explore gas reserves from offshore platforms. In oil and gas drilling, Shell is a leading supplier of a wide range of drilling fluid Types optimized on the latest technology, e.g., GTL drilling base fluids, NEOFLO, etc.
Moreover, Shell also pledges to test drilling equipment for the safe extraction of oil and gas products. The technology includes full-scale drilling rigs with sensors, test rigs, casings, drillships, and other well equipment for exploring petroleum resources.
4.    Saudi Aramco
Saudi Aramco is one of the world's biggest oil and gas companies rendering integrated services all across the globe. This energy corporation was struck up in 1933 as a result of an oil concession contract between Saudi Arabia (Saudi Arabia Oil History) and SOCL.
This company plays an influential role in energy transition and pledges to facilitate the nations with high-quality, reliable, and cost-effective energy resources.
Services
Saudi Aramco specializes in providing high-value products such as the production of base oil, gas, refined products, retail fuels, lubricants, etc. It also harnesses chemicals and reliable power systems for the high-growth energy market.
Moreover, this company also invests in innovative technologies for the safe exploration of oil and gas reserves. It also invests in health and safety measures for the smooth working of employees.
To enhance the sustainability of the energy procedures, this company offers energy-efficient technologies and measures to improve the efficiency of power systems, e.g., cogeneration systems.
5.    Bp
Bp is one of the top oil and gas companies in the world, which was started in 1908 with the oil discovery in Persia. The main headquarter is in London, UK. It operates in more than 70 countries and fulfills the energy demands all over the globe with 40,000 suppliers. It is among the top seven supermajors of oil and gas resources.
Services
The main focus of bp is on the availability of all energy forms with fewer carbon solutions. It offers reliable practices to stir up oil and gas exploration through offshore rig operations.
It specializes in nearly all areas of oil and gas production, extraction, exploration, refining, power generation, marketing, and exporting.
Bp typically refines and distributes chemicals, motor oil, lubricants, and other petroleum products. Bp also acquires downstream segments for oil and gas extractions. For instance, oil products, chemicals beyond petroleum, and other supplies.
6.    ExxonMobil
ExxonMobil is one of the largest energy providers, established in 1999 by the mutual contribution of Exxon and Mobil. It is headquartered in Irving, Texas. It is committed to producing vast reserves of oil and gas to meet the energy want and supply internationally.
Services
ExxonMobil company is engaged in the production and exploration of efficient fuel (oil and gas) using innovative technologies. Moreover, it also offers a variety of petrochemicals and other chemical products with decreased emissions and waste. With digital innovation, it pledges to augment energy access. Also, it specializes in operating smart technologies for offshore autonomous drilling and oil refineries.
In addition, ExxonMobil also provides drilling facilities and production using rig technology. This corporation undergoes risk assessment and renders safety precautions to perform smoothly in drilling programs. Also, it acquires drilling hydraulic fracturing to extract unconventional petroleum reserves from shale rocks.
7.    Phillips 66
Phillips 66 vis an American-based oil and gas corporation that came into the function from segregation from ConocoPhillips in 2012. Its main motive is to fix up the increasing demands for energy products at the international level. The headquarter is incorporated in Houston, Texas.
Services
This company mainly focuses on energy production, refining, exploring, chemicals, marketing, and midstream. Phillips 66 comprises 12 refineries operated in the US and Europe and contributing to petroleum access.
It specializes in liquid natural gas production and other petrochemical supplies. Also, the midstream business is accounted for the storage of NGL, crude oil, and other products. For instance, Phillips 66 pipeline, DCP midstream, etc. Moreover, this company markets aviation fuel, gasoline, and diesel in 48b states in the US.
8.    Valero
Valero is one of the top producers of petroleum and was founded in 1980. The headquarter is present in San Antonio, Texas, the US. Its main goal is to satiate the world's augmenting demand for renewable fuels and energy resources.
Services
Valero undergoes fuel production and distribution such as diesel, ethanol, gasoline, jet fuel, etc. About 15 petroleum refineries are working with a 3.2-million-barrel capacity per day. These refineries provide high-quality petroleum products through safe and reliable operations.
The specialty products include natural gas liquids, propane, aromatics, solvents, sulfur, and asphalt. Also, with 12 ethanol plants, Valero has become the second biggest corn ethanol producer worldwide. This company pledges to produce renewable fuel with less percentage of carbon. It generates renewable diesel with a low carbon intensity that causes an 80% of reduction in GHG emissions.
9.    TotalEnergies
TotalEnergies is a leading oil and gas company created in 1924 in France. The headquarter is in Tour Total, Courbevoie, France. The business deals in exploring and producing oil and gas, renewable energies, and bioenergies. Also, this company indulges itself in providing development and shipping opportunities in the petroleum sector.
Services
The optimal offerings of the company include exploration and production of oil and gas to meet the challenges of the petroleum industry. The main focus of TotalEnergies is on the significant expertise in offshore deepwater liquid natural gas (LNG) production. The use of innovation and digital technology has made oilfield operations facile.
Also, this company offers refining and petrochemical tasks efficiently through cost-effective natural gas and power practices. Other offerings include bitumen, fuel additives, special fluids, lubricants, etc.
The Leading Oil and Gas Companies in the United States
| Degree | Oil/gas company | Market value in 2015 (in billions of USD) |
| --- | --- | --- |
| 1 | Exxon Mobil | 356.5 |
| 2 | gallon | 197.4 |
| 3 | ConocoPhillips | 76.7 |
| 4 | Occidental Petroleum | 56.3 |
| 5 | EOG resources | 50.3 |
| 6 | Anandarko Petroleum | 42.7 |
| 7 | Phillips 66 | 42.6 |
| 8 | Valero Energy | 32.7 |
| 9 | Marathon Petroleum | 28 |
| 10 | Devon Energy | 24.8 |
Leading companies in USA
2020 Top Oil and Gas Companies List
The current version of the list of the world's largest oil and gas companies was compiled based on the results of 2020.
| № | Company | Country | Profit ($ billion) |
| --- | --- | --- | --- |
| 1 | Saudi Aramco | Saudi Arabia | 465.49 |
| 2 | Sinopec Group | China | 448.00 |
| 3 | China National Petroleum Corporation | China | 428.62 |
| 4 | Exxon Mobil | USA | 268.9 |
| 5 | Royal Dutch Shell | Netherlands / UK | 265 |
| 6 | Kuwait Petroleum Corporation | Kuwait | 251.94 |
| 7 | BP | Great Britain | 222.8 |
| 8 | Total SA | France | 212 |
| 9 | Luk oil & gas company | Russia | 144.17 |
| 10 | Eni | Italy | 131.82 |
| 11 | Valero Energy | USA | 130.84 |
| 12 | Chevron Corporation | USA | 129.9 |
| 13 | PDVSA | Venezuela | 128.44 |
| 14 | Pemex | Mexico | 117.50 |
| 15 | National Iranian Oil Company | Iran | 110.00 |
| 16 | Gazprom | Russia | 106.3 |
| 17 | Phillips 66 | USA | 102.35 |
| 18 | Petronas oil and gas company | Malaysia | 100.74 |
| 19 | China National Offshore Oil | China | 98.53 |
| 20 | Marathon Petroleum | USA | 97.81 |
| 21 | PTT | Thailand | 93.55 |
| 22 | Rosneft | Russia | 91.72 |
| 23 | JX Holdings | Japan | 90.67 |
| 24 | Engie | France | 89.64 |
| 25 | Petrobras | Brazil | 88.8 |
| 26 | Equinor | Norway | 82.48 |
| 27 | Indian Oil Corporation | India | 81.55 |
| 28 | Sonatrach | Algeria | 76.10 |
| 29 | Reliance Industries | India | 73.10 |
| 30 | Pertamina | Indonesia | 70.65 |
| 31 | TO PUNCH | Azerbaijan | 54.79 |
| 32 | GS Caltex | South Korea | 50.26 |
| 33 | ONGC | India | 50.00 |
| 34 | Enterprise Products | USA | 47.95 |
| 35 | Repsol | Spain | 47.29 |
| 36 | Centrica | Great Britain | 45.29 |
| 37 | Bharat Petroleum | India | 43.46 |
| 38 | OMV Group | Austria | 43.09 |
| 39 | Idemitsu Kosan | Japan | 38.58 |
| 40 | Hindustan Petroleum | India | 37.85 |
| 41 | PKN Orlen | Poland | 36.1 |
| 42 | Schlumberger | France | 35.47 |
| 43 | Suncor Energy | Canada | 34.66 |
| 44 | Hellenic Petroleum | Greece | 31.28 |
| 45 | ConocoPhillips | USA | 29.11 |
| 46 | Motor Oil Hellas | Greece | 28.98 |
| 47 | Ecopetrol | Colombia | 26.99 |
| 48 | CEPSA | Spain | 26.90 |
| 49 | MOL | Hungary | 24.63 |
List on 2017
Oil & Gas Recruitment Agencies
The main oil & gas employment agencies comapnies are:
Conclusion
In short, oil and gas companies play a significant role in communities to fulfill the need and demand for energy products. These corporations generate revenues that boost their growth and enhance the economic stability of the global petroleum industry. So, if you are looking for top oil and gas companies in the world, go through the aforementioned list and plump for their products and services according to your desire.
Download 100 Oil & Gas Companies List
This list contains100 companies with links to their websites to facilitate searching for a job in this field.

Download List For Top Oil and Gas Recruitment Agencies