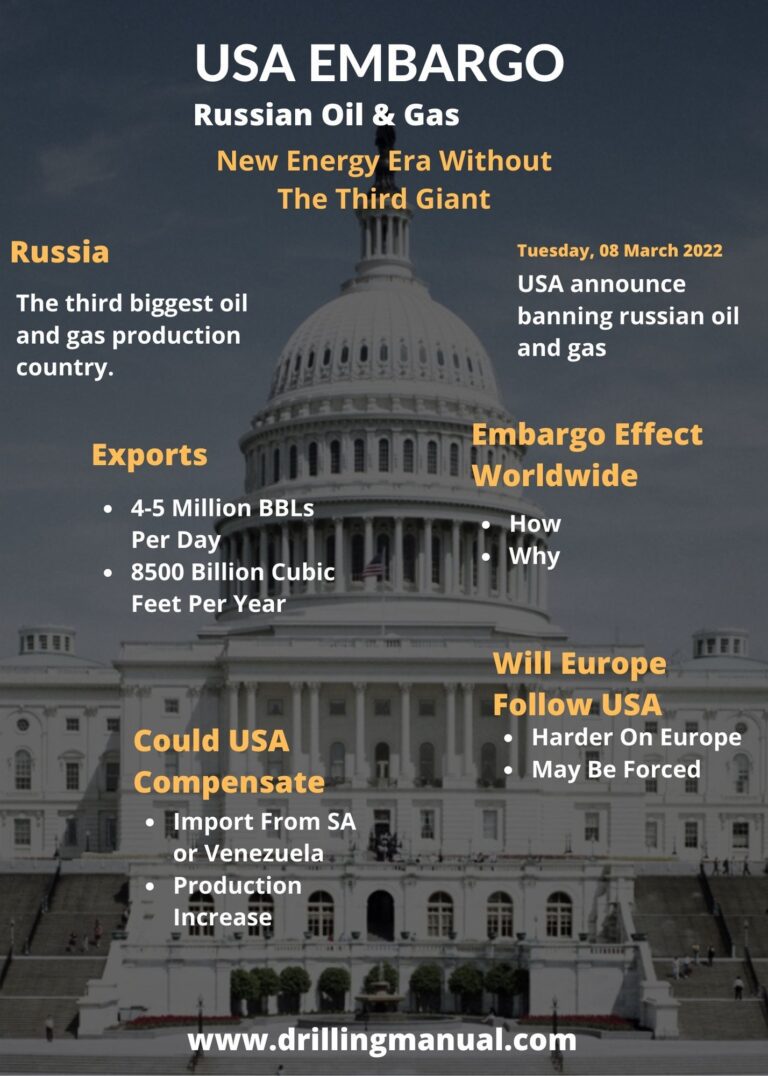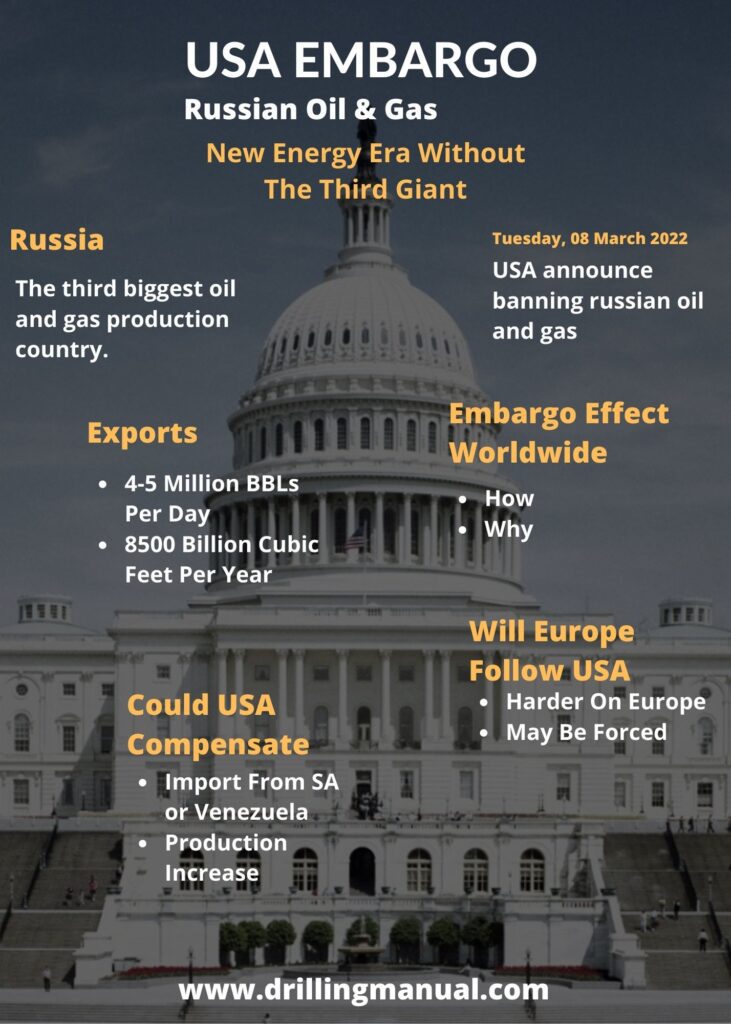 Biden said at the White House about banning the Russian oil and gas :
I am announcing the United States is targeting the main artery of Russia's economy
We're banning all imports of Russian oil and gas and energy
This is a step that we're taking to inflict further pain on Putin
But there will be costs as well here in the United States

The day before, Canada became the first G7 country to abandon Russian oil. Prime Minister Justin Trudeau: "This measure sends a powerful message". The American ban is more than a symbol. It shakes the energy market, it can lead to political consequences inside America.
According to Bloomberg, at current prices
Russia, exporting its oil and gas, earns more than $1 billion a day, and the reduction of this is tantamount to "economic decapitation" of the regime.
Could USA Increase Production?
For the first time, the United States has outpaced its European allies in sanctions against Russia. The country imports about 700,000 barrels of oil per day from Russia, accounting for about 8% of its energy supply. Some analysts say the United States can easily make up for any loss of Russian oil. And Others say it will be difficult.
President Joe Biden's ban on Russian oil and gas imports is putting new pressure on US drilling companies to make up for the supply shortfall that has pushed crude prices to their highest level since 2008. Among them: EOG Resources and Devon Energy Corp., the two shale oil giants, also hold thousands of federal drilling permits, many of which could be used to produce more oil from the rich Permian Basin.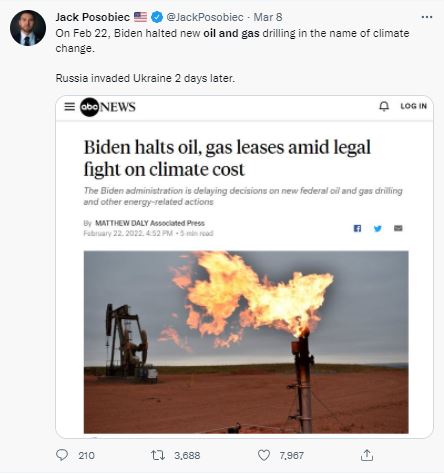 US producers "have 9,000 permits to drill now — they can drill now, they could drill yesterday, or last week, or last year," President Joe Biden said Tuesday. They have 9,000 onshore permits already approved, so let me be. Obviously, let me be clear: they are not using it for production now."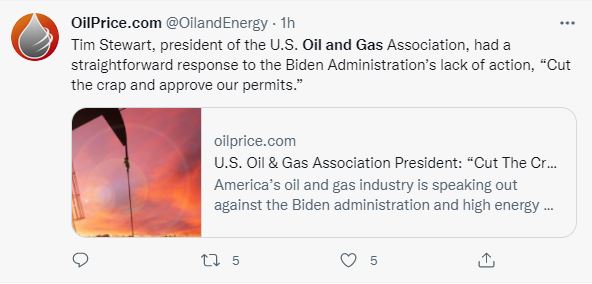 The comments came a day after the American Petroleum Institute, the largest lobbying group for US oil companies, accused the government of "abusing facts" when it comes to federal lease data. "Just because you have a lease does not mean that there is actually oil and gas on this leased lot, and there has to be a lot of development between leasing and eventually permitting that space to produce," said Mike Summers, chief executive of the American Petroleum Institute.
Oil companies might think it would be wise to hold on to drilling permits now if Biden — who campaigned on pledges to combat climate change, speed the transition to renewables, and limit new oil and gas permits on public lands and coasts — clamp down on drilling at a time. later.
But there are obstacles to increasing production in Lea and Ede counties; Oil produced on this side of the Permian Basin tends to generate higher amounts of natural gas and water, and both are more expensive to dispose of in New Mexico, where air and water regulations are stricter than in Texas.
"The energy sector doesn't have a problem with permits. it has a funding problem," said Aaron Weiss, deputy director of the Center for Western Priorities, which conducts its own analysis of federal drilling permits.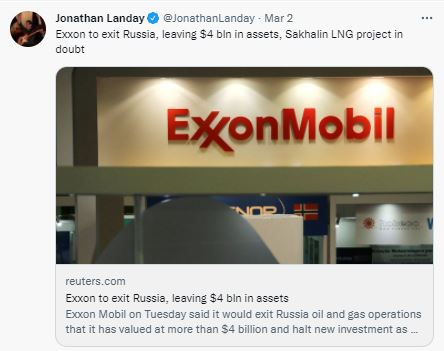 Could USA Imports Its Needs From Oil & Gas
The US ban on the import of petroleum products from Russia will hit, first of all, American citizens. It will take months, if not years, for Washington to replace oil with imports from Venezuela and Iran. In this scenario, in the coming months, the US domestic oil market will face serious difficulties. Americans expect a further increase in the already record-breaking price of gasoline, up to a new high of $5 per gallon, the expert warns.

https://www.gazeta.ru/
The administration is concerned about uncertainty in energy markets, and officials are discussing the possibility of increasing supply or distribution with oil-producing countries, including Saudi Arabia and Venezuela, which is a Russian partner and has been subject to US sanctions for years. Venezuelan President Nicolas Maduro said on Monday that Venezuela is capable of producing more than three million barrels of crude oil per day "if it is necessary for the stability of the world." Maduro, as we see, is ready to normalize relations with Washington. Axios reported on the possibility of Biden's visit to Saudi Arabia. The White House did not deny that Biden might make the trip there as the US seeks to persuade Riyadh to boost supplies. Let me remind you that after the murder of Jamal Khashoggi, a journalist,
Venezuela can instantly give the United States sufficient volumes of oil to replace Russia – up to 1 million barrels per day. But Venezuela's oil industry is in a sorry state right now. In this regard, only multimillion-dollar investments in local oil production will be able to increase supplies from Caracas for the Americans, "explained Yushkov

https://www.gazeta.ru/ -Russian Oil and Gas
Some financial analysis believes that it will be extremely difficult for the Americans to persuade the main participants in the OPEC + deal – Saudi Arabia and the United Arab Emirates – to sharply increase the level of oil production. Otherwise, there will be an imbalance in supply and demand in the global commodity market, which will undermine the meaning of the existence of the oil cartel itself.
European Allies And The Russian Oil Banning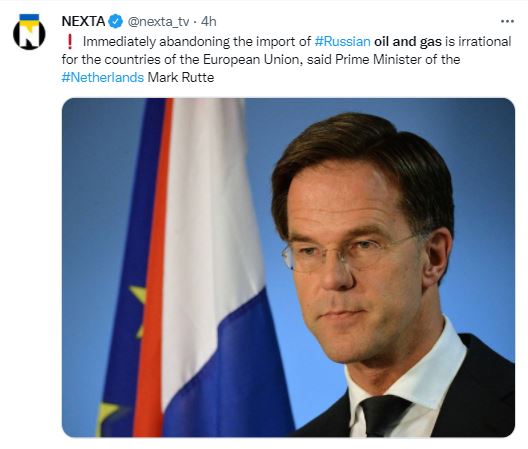 Another thing is Europe, which imports more than 4 million barrels per day. It depends much more on Russian energy carriers. On the eve of Biden held a video conference with the leaders of France, Germany, and the UK, his administration continues to seek European support for a ban on Russian oil imports. "We are working to remove our European allies' dependence on Russian oil and gas," the US president said. The head of the White House noted that the sanctions imposed had caused enormous damage to the Russian economy: the ruble began to cost less than a penny ("American penny"), a ban on the export of semiconductors would inevitably hit the Russian military industry, leading Western companies were leaving Russia, bank cards stopped working.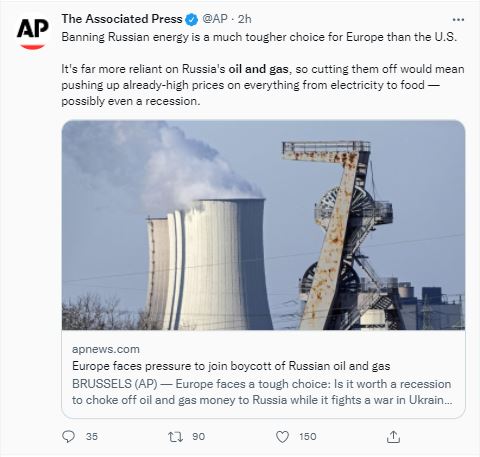 British Business and Energy Secretary Kwasi Karting announced on Tuesday that the United Kingdom would halt imports of Russian crude oil and petroleum products by the end of 2022 in response to the "Russian invasion of Ukraine". The newspaper "Politico", quoting British government officials, before the decision was announced, that Russian gas will not be banned at the same time to make the decision.
Politico indicated that there will be a period of several months before imposing the ban to allow the global market to adapt to the situation and to prevent people from rushing to buy fuel, according to Reuters.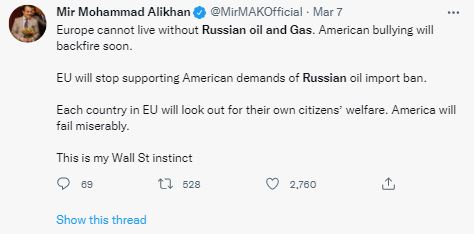 Oil Price Forecast After The Embargo
Russia is the second-largest producer of oil and natural gas in the world; conflict or sanctions could further undermine the oil market at a time when strong demand outstrips limited supply.
Prices soared to their highest level since 2008 (History of oil and gas prices). A month ago, oil cost about $90 per barrel. Even before the ban was introduced, prices soared above $120 a barrel as buyers shunned Russian oil and refiners feared sanctions. Hours before Biden's announcement, Shell said it would stop buying Russian oil and natural gas and close its filling stations.
Russian Deputy Prime Minister Alexander Novak said on Monday that oil prices could exceed $300 a barrel if the United States and the European Union banned oil imports from Russia. Fears that Russia might respond to sanctions already in place by halting energy exports have also pushed up prices.
Mark Zandi, chief economist at Moody's Analytics, said in a tweet Tuesday that the oil embargo will push crude oil prices to $150 a barrel. That would translate to an average gas price of about $5 a gallon, he added, and "much higher" in higher-priced states like California and New York. This would be the highest average price of gas in data going back to 1990, according to the Energy Information Administration.
Goldman Sachs analysts estimate that if oil prices reach $150 a barrel, US economic growth will drop by half a percentage point this year as high gasoline prices eat into consumer spending. They warn that the prospect of higher inflation, with prices already rising at their fastest rate in 40 years, could increase the likelihood that workers will demand higher wages, leading to a so-called "wage-price spiral." GasBuddy, which tracks gasoline prices, predicts that gasoline prices in the United States could soon average $4.5 a gallon (3 liters) and $6 in California.
Richard Murphy "Professor of Accounting Practice, Sheffield University," said on his tweeter account "Right now there's no shortage of oil or gas in the world. It's still flowing out of Russia. And right now the cost of producing oil and gas hasn't increased. Most electricity has no reason to go up in price. So the price increases that are happening are all down to profit-taking. I will keep reminding people that the cost of producing oil and gas has not increased as a result of war. All that has changed is the profit-making exploitation of oil and gas companies, at a cost to us all. Are the world's politicians really going to put up with this, and why?"


Putin has already raised the level of nuclear alert. Put russian oil and gas embargo on the table and it is likely to raise the stakes again. China, if the Kremlin redirects there all the energy resources rejected by the West, will take advantage of the situation and pay much lower than the market price, experts are convinced.

https://novayagazeta.ru/
References: