The IADC roller cone drilling bit classification charts are often used to select the best bit for a particular application. These charts contain the bits available from the four leading manufacturers of bits. The bits are classified according to the International Association of Drilling Contractors (IADC) code. The position of each bit in the chart is defined by three numbers and one character. The sequence of numeric characters defines the "Series, Type and Features" of the bit. The additional character defines additional design features.
The First Character
designates the cutting structure series which describe the general formation characteristics. The series classification is split into two broad categories: milled tooth bits (series 1-3); and insert bits (series 4-8)
Series 1-3 bits are therefore milled tooth bits which are suitable for soft, medium or hard formations.
Series 4-8 bits are inserted bits and are suitable for soft, medium, hard and extra hard formations.
The Second Character Of IADC Roller Cone Drill Bit Classification
Refers to cutting structure type. Each series is divided into 4 types or degrees of hardness.
Type 1 for the softest formation in the series.
Type 4 for the hardest formation in the series.
The Third Character
Describes the roller cone drill bit bearing and gauge protection.
There are 7 categories of bearing and gauge protection design as shown on below table.
1 Means a standard roller bearing
2 Means air cooled roller bearings
3 Means a roller bearing bit with gauge protection
4 Means sealed roller bearings are included
5 Means both sealed roller bearings and gauge protection included
6 Means sealed friction bearings included (for both milled tooth and insert bits)
7 Means both sealed friction bearings and gauge protection included
Categories 8 and 9 are reserved for future use.
The Fourth Character Of IADC Roller Cone Drill Bit Classification
Which is optional and describes special features available. There are 16 alphabetic characters as shown in the below table.
A – AIR APPLICATION
B – SPECIAL BEARING SEAL
C – CENTER JET
D – DEVIATION CONTROL
E – EXTENDED JETS (FULL LENGTH)
G – GAGE / BODY PROTECTION ADDITIONAL
H – HORIZONTAL / STEERING APPLICATION
J – JET DEFLECTION
L – LUG PADS
M – MOTOR APPLICATION
S – STANDARD STEEL TOOTH MODEL
T – TWO CONE BIT
W – ENHANCED CUTTING STRUCTURE
X – PREDOMINANTLY CHISEL TOOTH INSERT
Y – CONICAL TOOTH INSERT
Z – OTHER SHAPE INSERT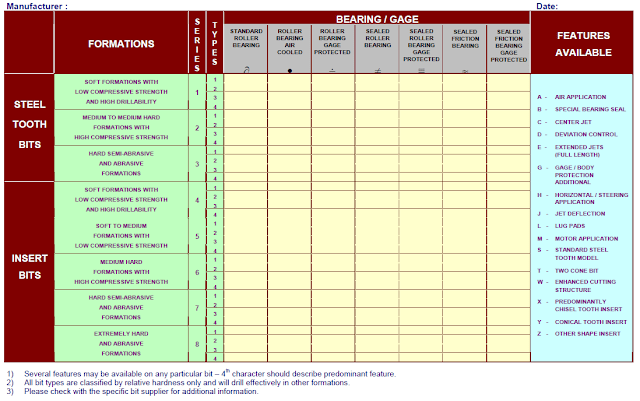 The terms "soft" "medium" and "hard" formation are very broad categorizations of the geological strata which is being penetrated. In general, the rock types within each category can be described as follows:
Soft formations are unconsolidated clays and sands.
These can be drilled with a relatively low WOB (between 3000-5000 lbs/in of bit diameter) and high RPM (125-250 RPM). 
Large flow rates should be used to clean the hole effectively since the ROP is expected to be high.
Excessive flow rates however may cause washouts (check drill pipe washouts). Flow rates of 500-800 gpm are recommended. 
As with all bit types, local experience plays a large part in deciding the operating parameters.
Medium formations may include shales, gypsum, shaley lime, sand and siltstone.
Generally a low WOB is sufficient (3000-6000 lbs/in of bit diameter).
High rotary speeds can be used in shales but chalk requires a slower rate (100-150 RPM).
Soft sandstones can also be drilled within these parameters.
Again high flow-rates are recommended for hole cleaning
Hard formations may include limestone, anhydrite, hard sandstone with quartic streaks and dolomite.
These are rocks of high compressive strength and contain abrasive material.
High WOB may be required (e.g. between 6000-10000 lbs/in of bit diameter.
In general slower rotary speeds are used (40-100 RPM) to help the grinding/crushing action.
Very hard layers of quartzite or chert are best drilled with insert or diamond bits using higher RPM and less WOB.
Flow rates are generally not critical in such formations. A more detailed description of formation types and suitable bits is given in Tables below