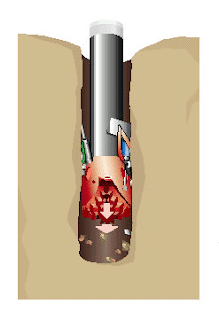 We mean by drilling junk any material, any tool or any piece of equipment may fall down from surface of from downhole Bottom Hole Assembly BHA and equipment. The junk may jams the Drill String and produce easily a good stuck.
This type of stuck pipe usually occurs:
Due to poor housekeeping on the rig floor.
The hole cover not being installed.
Downhole equipment failure.
Preventative Action For Wellbore Junk In Drilling
Using drill string wiper rubber ASAP.
Cover the hole all times. 
Good housekeeping is necessary.
Daily basis inspection of handling tools is a must. 
Inspect downhole Bottom Hole Assembly BHA and equipment before RIH and again as it is being run through the rotary table. 
Check slip and tong dies. 
Indications
Repair/maintenance work recently performed on the rig floor.
Missing hand tools / equipment.
Unable To Circulate.
Metal shavings at shaker.
Sudden erratic torque.
Inability to make hole.