Baker Hughes is one of the leading service companies that are working in the oilfield. They are offering many services including manufacturing and supplying oilfield drilling bits. Here in this article, we shall introduce to you two versions of Baker Hughes Christensen Drill Bits Spec Sheets & Catalog PDF to download. We also have gathered the drilling bits brochures from their official website. We advise you to read more about drilling bit selection process.
Baker Hughes Drilling Bit Spec Sheets Catalogue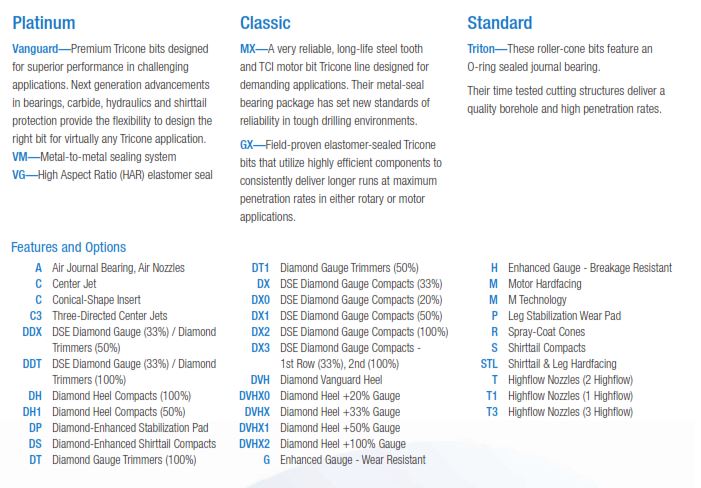 Introduction
Baker Hughes has always prided itself in offering the most valuable to their customer via a mixture of product performance and service. To better provide the right drilling solution for their client's specific applications they offer three levels of product line, each designed to a combination of a well's situation, cost (check also drilling cost per foot), and client expectations. They said that their goal is to introduce a wide range of drilling bit designs and services that provide the best value across the full market spectrum of customer needs.
Firstly, Baker Hughes Platinum Line: Superior performance in difficult applications
Secondly, Baker Hughes Classic Line: Field-proven, competitive technology
Thirdly, Baker Hughes Standard Line Economic performance in less challenging conditions

Contents
Application Engineering

Application Engineering
Oasis Certification
Drill Bit Optimization
Drillability Analyses
Knowledge Management

Innovation and Technology

Solid Modeling Design
FEA Finite Element Analysis
Materials Research
Drilling Technology Laboratory
BETA Baker Hughes Experimental Test Area
Product Evaluation Laboratory

Diamond Drag bits Products

Product Line – Nomenclature
Platinum Bits
Classic Bits
Standard Bits
Specialty Products
Specifications
Diamond Optional Features

Tricone Bit Products

Product Line
Platinum Bits
Classic Bits
Standard Bits
Special Application Bits
Technical Data – Nomenclature
Size and Weight
IADC Bit Classification
Technical Data
Tricone Optional Features

Sales and Terms

Sales Offices
Terms and Conditions
Baker Hughes Drill Bits Specs Sheets Technical Data
The Baker Hughes Drilling Bits Specs Sheet Catalogue provides also technical data for their drilling bits including the following:
Nomenclature
Product features & enhancement.
Tolerances.
Bearing and performance packages.
API casing and bit sizes.
Breakout plates.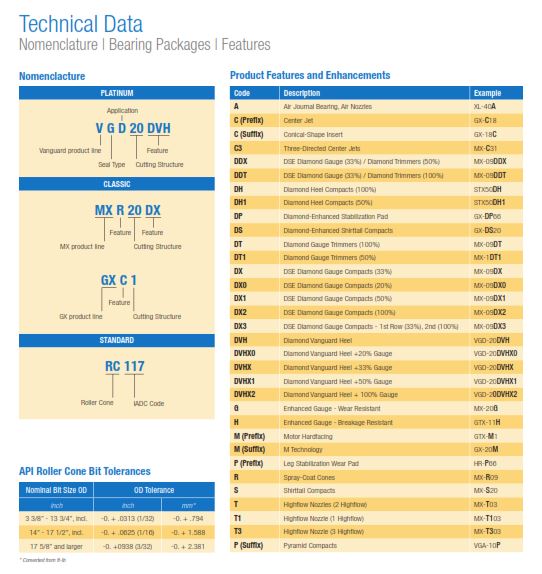 They have also gathered all their drilling bits products (size and weight specs sheets) in their catalogs as seen in the below figure.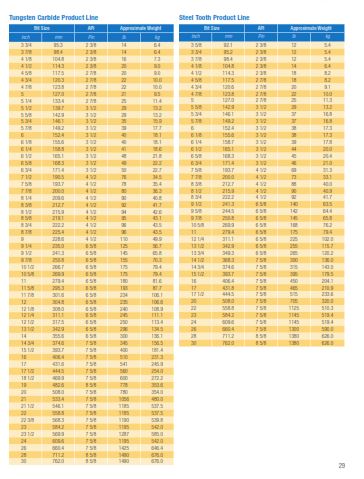 Baker Hughes Drilling Bits IADC Classifications
In Baker Hughes Spec Sheet Catalogue for drilling bits, we have found that they have collected their bits, classified them according to the IADC bit classification system, and put it all in one table to help drilling engineers pick the most applicable drilling bit to their situation.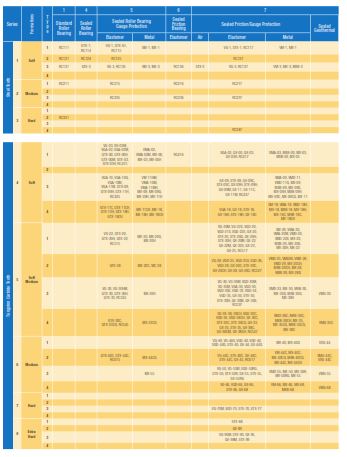 Download Baker Hughes drill Bit Spec Sheets Catalog PDF
Please click below to download Drilling Bit Specs Sheets PDF Catalogue For Baker Hughes. But as we found 2 versions of this catalog, I prefer that you download both and
You can also download the specs sheets for Apple phones from below link
Other Bit brochures From the official website of Baker Hughes
Ref : Baker Hughes Official Website & drill bits catalog pdf