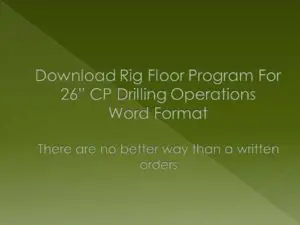 In this article, you will find a form for a rig floor program you can use on the rig. Also At the end you can download the word file format for the 26″ Drilling Operations. Please Don't Forget To Subscribe With Us
ACTUAL SITUATION
Conductor casing has been driven to refusal point at x ft (sea bed found at x ft)
Diverter system install (to be function test) and discharge lines made.
MWD/DD unit rigged up and directional equipment/tools on board
Mud mixing on going
26" BHA made up and running
OPERATIONS
1. Complete to function test Diverter and service the top drive in drilling rig.
2. RIH with 26" BHA to about x ft and start circulate mud in the well, check return and mud system.
3. With circulation RIH to about x ft, tag on sea bed level.
4. Wash down 30" CP from x ft to x ft with the following parameters:
Flow rate 650-750 GPM
WOB 0 to 5000 LBS
RPM 60 – 100 rpm
5. At x ft circulate CP clean while waiting for production to shut well #8 in. GWD eng to record survey.
6. Start drilling as per directional driller instructions (Check also Driller Job Descriptions) to achieve the planned directional plan. For the first 2 (two) stands drilled, reduced parameter will be used to avoid 30" CP shoe and soft sandy formation to washed out. Then gradually full drilling parameters will be used as per DD instructions.
7. At x ft if the the directional work is confirmed as per plan, well #8 can be re-opened.
8. Continue to drill 26" directional hole to +/- x ft (x ft TVD) – depth to be confirmed by DD.
9. At TD pump tracer and 100 bbl of Hi-Vis pill and circulate same out at the maximum flow rate allowed without losses (attempt to evaluate hole volume).
10. Perform wiper trip (check also Tripping Pipe procedures) to 30" CP shoe. At 30" CP shoe circulate one bottom up to insure hole cleaning. Rih back to bottom and verify hole condition and if any fill.
11. At TD will be decided if spot HVP in accordance to hole conditions.
12. Pooh 26" BHA and lay down directional BHI tools, down load GWD memory.
13. Prepare and Rig up to run and cement 20" casing (20" running and cementing program will follow).
Remarks:
Once started the drilling, keep hole full at all the time (drilling and tripping)
A 50 bbls HI-Vis pill will be circulated at each half stand drilled and a 100 bbls HI-Vis pill at each connection
Hole conditions will be evaluated and frequency of pills adjusted according
Put a reference mark on the 30"CP to verify at if any movement of the CP while circulating/drilling
x
Company Man
Download Rig Floor Program For 26″ Drilling Operations