Casing Thread Connections
Oilfield tubulars may have plain ends (no threads), API-specified threaded casing thread connections, or proprietary (non-API) threaded connections.
API Casing Connections
Oilfield casing conforming to API standards may be obtained with plain ends but ends
are usually threaded and furnished with couplings such as:
Short thread and coupling (STC)
Long thread and coupling (LTC)
Buttress thread and coupling (BTC)
Extreme-Line thread (X-line) for casing * with 8 round threads per inch (8 RD)
Except for Extreme-Line, male (or pin) threads are machined on the plain-end pipe and later made up with a coupling.
A reduced OD (special clearance) coupling is offered on some sizes and weights to allow additional clearance between pipe and hole. While providing this additional clearance, special clearance couplings often reduce the rating of the connection, usually in tension or internal yield and test pressure.
API Short/Long Thread and Coupling
The API Short Thread and Coupling (STC) and API Long Thread and Coupling (LTC) are used in pipe sizes of 4-1/2″, 7" and 9-5/8". Figure 4 shows the LTC design.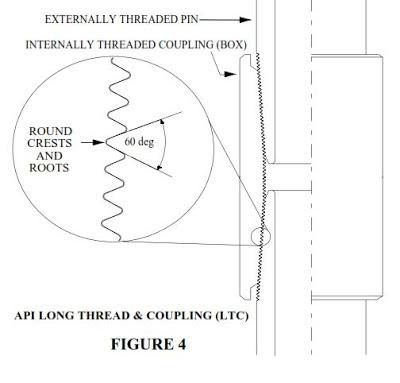 The STC design is the same, except that the coupling and the threaded pins are shorter. This design is externally threaded on both ends of a non-upset pipe. The single lengths are joined with an internally threaded coupling.
The thread profile has rounded threads and roots with a 60° angle between the thread flanks, as shown in the figure. The thread density is eight threads per inch (8 RD) on a 0.0625 inch per inch taper. When the coupling is made up, small voids exist at the roots of each thread.
Thread compound must be used to fill these voids to obtain a seal. LTC is not made in casing sizes larger than 13-3/8" because of the possible joint pull-out with the heavier-weight casing.
API Buttress Thread and Coupling
This is used in conductor pipe and surface casing applications, requiring a higher joint strength. Figure 5 shows the BTC design. This design is externally threaded on both ends of a nonupset pipe (as in the STC and LTC). The single lengths are joined with an internally threaded coupling.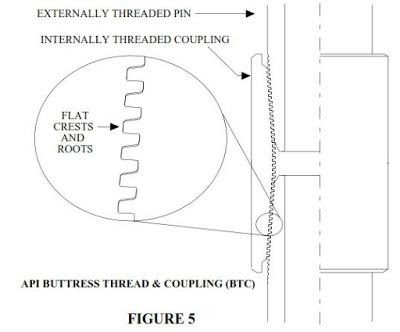 The thread profile has flat crests and roots parallel to the taper cone. The thread density is five threads per inch on a 0.0625 inch per inch taper for sizes 13-3/8″ and smaller and 0.0833 inch per inch for sizes 16″ and more significant.
The BTC thread has higher joint and bending strengths than LTC (or STC). As a result, this thread is often used in deeper wells where higher hook loads are experienced.
Thread compound must also be used to obtain a seal with BTC. BTC is also run in horizontal wells where doglegs can cause high bending loads on larger casings. However, BTC leak resistance is lower than that of LTC and STC.
Proprietary / Premium Casing Connections
Proprietary connections are available, which offer premium features not available on API connections.
Among the special features of proprietary connections are the following:
clearance OD of coupling for slim hole completions
metal-to-metal seals for improved high-pressure seal integrity
high bending strength for deviated holes
multiple shoulders for high torque strength
a streamlined connection OD for easy running in multiple completions.
recess-free bores through the connection ID for improved flow characteristics
higher tensile strength for deep holes
an integral connection to reduce the number of potential leak paths
resilient seal rings for continuous corrosion protection
high compressive strength for compressive loading situations
VAM Connection – No More Exist
This connection has a metal-to-metal seal for superior leak resistance. An internally threaded coupling with internal shoulders provides positive makeup torque and a non-turbulent bore (see Figure 6). Also, due to its superior joint and bending strength, it is used as the completion casing liner (One of the Types Of Casing) for horizontal wells.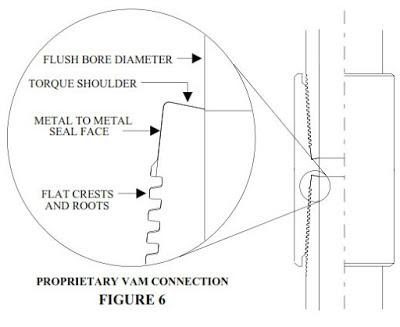 NS-CC Connection
It is stocked in sizes of 7″, 9-5/8″ and 13 3/8″. This connection is noteworthy for its gas leak tightness, low hoop stress, high joint strength (equivalent to API buttress thread), high collapse strength, and easy stabbing design. Its two-step pin nose incorporates a primary and reserve torque shoulder, and metal-to-metal seal is a good candidate for deep, high-temperature, high-pressure Gas service.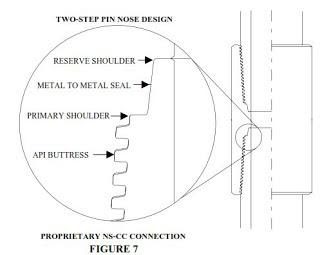 Vetco LS, RL-4S, and Dril-quip S60 Connections for Large Casing Sizes
The Vetco LS connection is a high-strength integral design that accommodates high internal operating pressures, bending moments, and tensile loads. The pin/box mating shoulder has a 30-degree taper (see Figure 8). This results in the open end of the box being captured by the tapered shoulder of the pin and prevents the box from ballooning at the pin/box interface during periods of high internal pressure and significant bending moments.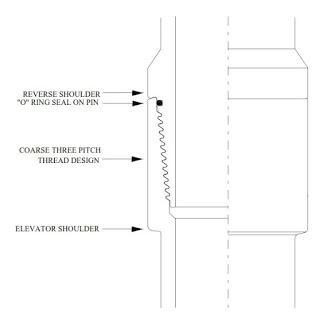 The Vetco RL-4S connection features dual stabbing guides and a high stab angle for easy stabbing. Self-locking, four-start thread forms allow fast quarter-turn makeup.
The Drill-quip S-60 connection features easy stabbing, no cross-threading, fast makeup, low torque, and high-pressure sealing. These connections save rig time and are commonly used in 24" and larger casing sizes.
Other Premium Casing Connections that you might be interested in: