A cut made with a set of knives installed in a tool and run on a small diameter work string. This is referred to as an internal or inside cut. Internal mechanical drill pipe cutter MPC cuts are most common when removing sections of casing and wellhead equipment during final well abandonment operations.
How Mechanical Pipe Cutter Works?
The internal cutter is made on a mandrel with a wickered sleeve or split nut fitted to threads on the mandrel. This allows the slips to be released and the tool to set at any specific depth desired. Friction blocks or drag springs are fitted to the mandrel to furnish backup for this release operation. As weight is applied to the setting tool, knives are fed out on tapered blocks, and as the tool is rotated, they engage the pipe and cut it in two.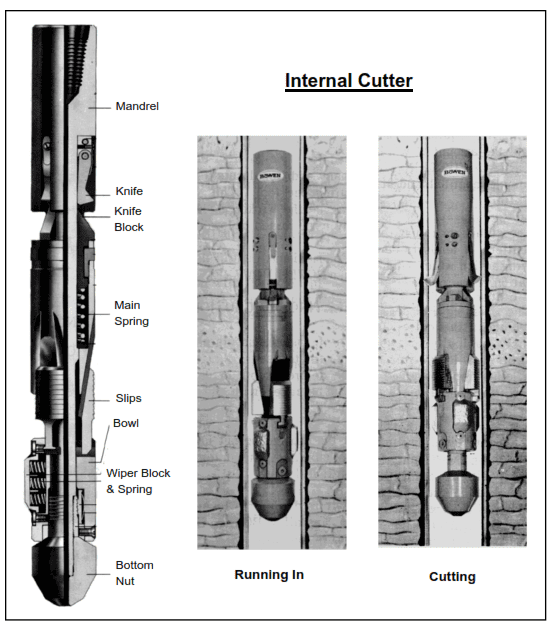 Upon running the mechanical drill pipe cutter to the desired cutting depth, the internal cutter is anchored by slowly rotating to the right while slowly lowering the work string. The wiper blocks resist rotation and lowering by maintaining friction on the pipe and continued lowering of the work string until the slips, which move upward and outward, engage and anchor the cutter to the pipe wall. The mandrel is free to travel downward under the knife blocks forcing the knives upward and outward to start the cut. Slight weight additions are applied while slowly rotating to the right. The main spring in the upper part of the cutter is partially compressed by the applied weight and assists in maintaining a uniform feed to the knives and to help absorb any shock that may accidentally be applied to the work string causing the knives to gouge or to break.
Cutting is accomplished by slow rotation of the mechanical drill pipe cutter to the right with just enough weight being gradually applied to feed the knives into the metal. For best operation, the work string is lowered in 1/16″ intervals (never more than 1/8″) a total of 1-1/4″ on the work string to complete the cut. Free rotation, with little or no reverse torque, indicates that the cut is completed. To prove the cut, increase the rotating speed; and if there is no increase in torque noted, it will indicate that the cut has been successfully completed.
Important Notes
Care should be exercised not to hurry the cutting operation with MPC cutter, as excess weight will cause the knives to dig into the pipe burning the knife points or possibly even breaking the knife blades.
Fishing Operations tool operators will usually run a bumper sub above the cutter so that excessive weight is not exerted on the knives causing them to break or dig into the pipe.
To release the mechanical drill pipe cutter, raise the work string one foot. This will cause the grip jaws to engage the wickered sleeve, and now the tool is ready to be raised or lowered, as desired.
Recommended Case Studies