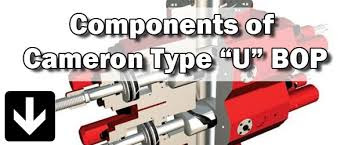 The Cameron U BOP blowout preventers are the most widely used ram-type BOP for land, platform (platform rigs) and subsea applications worldwide and offers the widest range of sizes of any Cameron ram-type BOP.
Like all other Cameron preventers, the rams in the U BOP are pressure-energized. Wellbore pressure acts on the rams to increase the sealing force and maintain the seal in case of hydraulic pressure loss.
Seal integrity is actually improved by increased wellbore pressure.
Other features of the U BOP include:
Hydraulic stud tensioning is available on larger sizes to ensure that stud loading is consistently accurate and even.
A bonnet seal carrier is available to eliminate the need for high makeup torque on bonnet studs and nuts.
Hydraulically operated locking mechanisms, wedge locks, lock the ram hydraulically and hold the ram mechanically closed even when actuating pressure is released. The operating system can be interlocked using sequence caps to ensure the wedge lock is retracted before applying pressure to open the BOP.
For subsea applications, a pressure balance chamber with wedge locks eliminates the possibility of the wedge lock becoming unlocked due to hydrostatic pressure.
Other features include hydraulically opening bonnets, forged body and a wide selection of rams to meet all applications.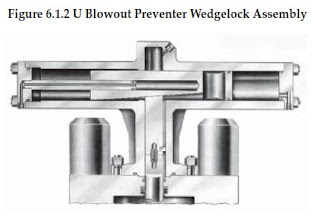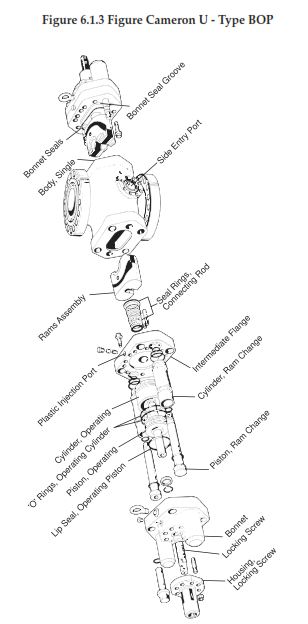 PIPE RAMS
Cameron pipe rams are available for use in Cameron ram-type BOPs to fit all commonly used sizes of tubing, drill pipe, drill collar or casing.
Cameron pipe rams are self-feeding and incorporate a large reservoir of packer rubber to ensure a long-lasting seal under all conditions.
Ram packers lock into place and are not dislodged by well flow
All Cameron pipe rams are suitable for H2S service per NACE MR-01-75.
CAMRAM™ top seals are standard for all Cameron pipe rams (except U BOPs larger than 13 3/4″)
CAMRAM 350™ packers and top seals are available for high-temperature service and for service in which concentrations of H2S are expected.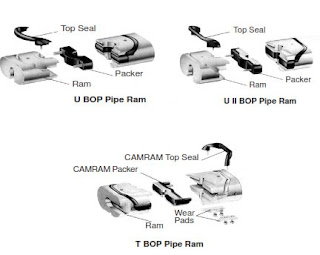 VARIABLE BORE RAMS
One set of Cameron variable bore rams (VBRs) seals on several sizes of pipe or hexagonal kelly, eliminating the need for a set of pipe rams for each pipe size. Features include: VBR packer contains steel reinforcing inserts which rotate inward when the rams are closed so the steel provides support for the rubber which seals against the pipe.
All VBRs are suitable for H2S service per NACE MR-01-75.
CAMRAM™ top seals are standard for all Cameron VBRs.
SHEARING BLIND RAM
Cameron shearing blind rams (SBRs) shear the pipe in the hole, then bend the lower section of sheared pipe to allow the rams to close and seal. SBRs can be used as blind rams during normal drilling operations.
Features include:
Large frontal area on the blade face seal reduces pressure on the rubber and increases service life.
Cameron SBRs can cut pipe numerous times without damage to the cutting edge.
The single-piece body incorporates an integrated cutting edge.
CAMRAM™ top seals are standard for all Cameron SBRs.
H2S SBRs are available for critical service applications and include a blade material of hardened high alloy suitable for H2S service.
DVS rams are shearing blind rams which are similar to SBRs with the following features:
DVS (double V shear) rams fold the lower portion of the tubular over after shearing so that the lower blade can seal against the blade packer
DVS rams include the largest blade width available to fit within existing ram bores.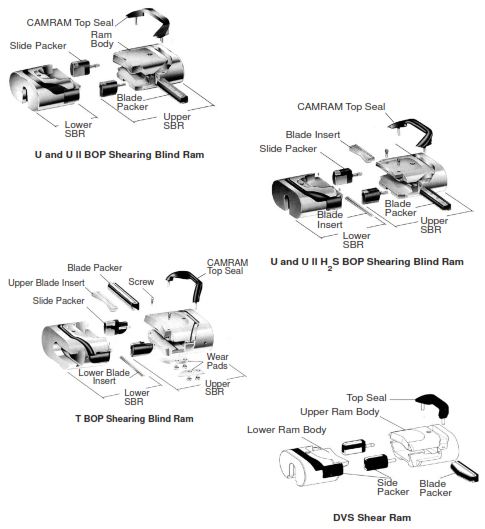 SECONDARY SEAL
The secondary seal is activated by screwing down on the piston which forces plastic through the check valve and into the space between the two swab cup seals. Further piston displacement causes pressure to build up between the swab cups, forcing them to flare out and provide a seal.
When the pressure exerted by the plastic packing reaches the proper valve, additional displacement of the piston will overcome the spring tension in the relief valve and plastic packing will begin to extrude from it.
The secondary seal should be activated only if the primary connecting-rod seal leaks during and emergency operation. The secondary seal is designed for static conditions and movement of the connecting rod causes rapid seal and rod wear.