Casing Check List
Within a reasonable time prior to the beginning of the casing running operation, the Company Completion and Drilling Supervisor and the Drilling Contractor's Tool pusher shall physically check the availability on the rig of all materials necessary to operations. Below we will provide you with the casing running checklist to help you while its job.
The following Casing Running checklist may be used as a guideline:
Casing joints, enough for planned depth with 5-10% excess or a min. of 10 joints.
Float equipment (float shoe, float collar, stage collar back-up are recommended).
Solvent to clean casing threads.
Centralizers, scratchers, stop collars and nails as per centralization program.
API casing drift (special Teflon drift is required for CRA casing).
Wellhead equipment (casing spool, slips, packing, wear bushing, etc.) with back-up.
Cementing plug set with back-up.
Casing circulating head (swedge) with thread consistent with casing in use and backup. ( Important component of casing running checklist)
Cementing head ((multiplugs with indicating flag).
Casing power tong with back-up and power unit.
Casing manual tongs.
Casing slip-type elevator and spider.
Casing single joint elevator.
Casing hand-set rotary slips.
Casing thread protectors (klampons).
Cement.
Water.
Mud volume (also considering the case of a displacement without returns).
Cement additives.
Diatomite, bentonite or whatever needed if light slurry should be mixed.
Drilling Chemicals to prepare spacers, if required.
Inner cement stinger and centralizer, if required.
Handling equipment (pick up slings, manila rope, etc.).
Torque monitoring system (required for Corrosion Resistant Alloy casing or 7″ casing).
Casing stabbing guide for running checklist (for premium connections and production casing string).
HP hose or chicksan line for circulating or reciprocating casing (minimum 15m length).
Pick-up the casing unit.
Dope applicator (for Corrosion Resistant Alloy and production casing string).
Special handling equipment (nylon pick up slings, wooden cover for pipe rack and Vdoor, etc.) required when Corrosion Resistant Alloy casing should be run.
Casing suspension equipment (surface, mudline, subsea).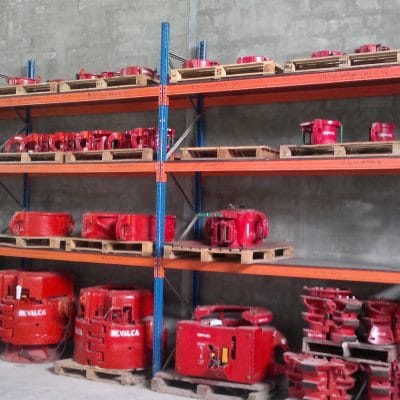 Preparation For Casing Running And Cementing
A non-destructive test (NDT) on the casing shall be carried out at a service contractor's workshop or at the Company's Operating Base.
Casing shall be accurately measured and drifted. Each joint shall be drifted with on API drift or a specially built drift in case of non-standard casing.
The joints will be counted and each joint numbered.
The joints to be excluded from the string will be clearly marked. A special mark for defective joints will be used and specified in the manifest for back loading.
Crossover joint thread connections should be drifted and checked for thickness and correct thread type.
Threads should be cleaned with a high pressure stream of water or an evaporating solvent such as Varsol, otherwise manually cleaned on API connections.. Diesel left in the thread roots can prevent the thread compound from forming an effective seal.
Casing shall be visually inspected to check it is not damaged by hooks used in the box and pin ends while handling.
The box thread of the casings should be greased on the rack. API modified thread compound (one of the casing running checklist)(torque transmission factor = 1) shall be used. 
The float equipment and casing accessories will be inspected.
The shoe will be made up on the pipe rack using a thread locking compound.
The collar should be made up on the box end of the pipe on the rig floor. Install blank thread protectors on the box ends of shoe joints.
The joints between shoe and collar couplings should be loose otherwise spare couplings should be ordered to provide a means of thread locking both sides of the couplings.
The centralizers should be made up on pipe rack as per the program.
Wellhead equipment will be inspected, checking all dimensions.
Ensure that the cement plugs are compatible with the inside diameter of the casing string.
Casing power tongs and associated equipment shall be visually inspected to ensure it is of proper size and condition.
The drill line shall be cut and/or slipped prior to running casing, regardless of its condition.
Links, elevators, hook assembly and drawwork brakes shall be inspected by Magnaflux prior to running heavy strings.
Make sure that the mud pumps are in good mechanical condition and fitted with proper size liners. Verify that shear pins are the correct size and are installed in the pump relief valve.
Verify the mud pumps volumetric efficiency to ascertain the practical value of litres/stroke during displacement.
Check the correct operation of the pumps stroke counters.
The cementing unit should be overhauled a few days in advance of requirement to reduce the risk of mechanical/hydraulic failure during cementing operations. ement lines, silos, surge tank, air compressor should be checked.