All current cementing pumps are of the reciprocating type, mostly with three plungers (triplex) and springloaded suction and discharge valves Figure 1. The transformation of the rotating motion of the input shaft into the reciprocating motion of the plungers is generally accomplished either by a system of a crankshaft and connecting rods or by a swashplate and connecting rods system. These pumps include an internal fixed-ratio speed reducer. Depending on the make and the model, the plunger stroke varies from 5 to 10 in. [12.5 to 25 cm].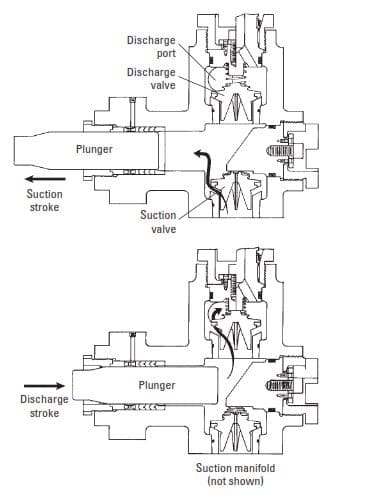 The global efficiency of triplex pumps is 85% to 90%. If adequately pressurized, the volumetric efficiency can reach 98% with water at 80% of the maximum speed. The construction is particularly rugged, allowing the pumps to handle the heaviest and most abrasive slurries.
Cementing Pump Convertibility
Depending upon the manufacturer, the "size" of a pump can be altered by changing either the fluid-end assembly or the plungers and packing system, using adapters to convert the fluid-end body. Size alteration changes the pressure and flow ratings without modifying the maximum available horsepower. The plungers used in cementing (cementing in drilling) usually have a diameter between 3 and 6 in. [7.6 and 15.2 cm].
Hydraulic Horsepower
Depending on the make and the model of the cementing pump, the maximum horsepower varies between 200 and 500 hhp [150 kW to 370 kW].
Versatility
Heavy-duty triplex pumps, which can handle gravel-laden fluids, can also perform hydraulic fracturing treatments. In the 200-hhp to 500-hhp [150-kW to 370-kW] range, the same pumps are used for primary cementing, set cement plugs and stimulation.
Maximum Flow Rate and Pressure
Available makes, models, and sizes offer a large variety of specifications. One should bear in mind that, during most cement jobs, only one pump is used to pump downhole. Usually, the maximum rate is 8 bbl/min [1.3 m 3 /min]. This limitation is based upon the maximum allowable rate for the 2-in. treating line most commonly used for cementing. The pump pressure usually does not exceed 1,030 psi [70 bar] (cement squeezes excepted). As a matter of fact, if the density of the cement slurry is equal to that of the drilling mud, the pumping pressure is simply a consequence of the friction losses in the surface equipment (steel flow hoses and cement head) and below the surface.
Cementing Pump Drive
The pumps on mobile units are driven by a diesel engine and may have either automatic or manual transmissions. Those permanently installed on an offshore rig are frequently driven electrically (usually with a directly coupled DC motor).
References
Well Cementing Second Edition – Erik B. Nelson and Dominique Guillot