NOV Shaffer Blowout Preventers BOP stack field proved its efficiency in performing good isolation around the drill pipe, across the open hole, and for performing shearing on the drill string. Here you will be able to understand Shaffer BOP ram and annular preventer type components and function. Also, you can download Shaffer BOP manuals & catalogs.
Shaffer Ram Type BOP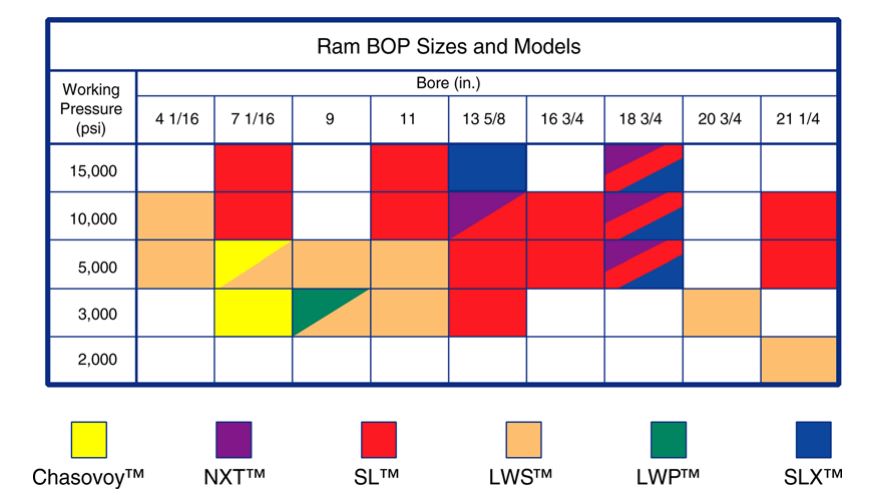 The Common Shaffer ram-type BOPS are:
NXT Model
SL/SLX Model
LWS Model
Chasovoy Model
Shaffer NXT Model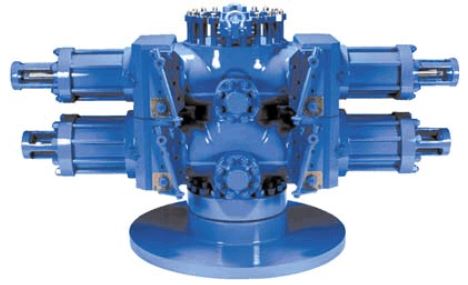 Shaffer's NXT Blowout Preventer Model offers a number of benefits and also NOV did good work by enhancing safety and efficiency, with quick access using boltless doors
You can actuate simply manual mechanical door at the ram door is also available.
Boltless BOP doors — In the area of drilling and safety, the new NXT BOP door locking system has activated automatic opening and closing of NXT® BOP doors, and so it is the first step for auto BOP servicing

Reduced Weight — (lightest BOP system

not in shaffer but

in the industry).

Improved Safety — There is now less manpower needed to service the BOP as well as reduction of injuries related to BOP ram access.
Reduced Height — (smallest BOP system in the industry). Achieved by eliminating the flange connection below the annular and connecting bolts thru the base of the annular directly to the ram body.

Reduced Time for Ram Changes — Ram changes go from 4 hours to 40 minutes. With the replacement of the large door bolts in ram BOPs, Shaffer has eliminated the manual practice of using brute force to torque up a series of large bolts.
Download Shaffer's NXT BOP Manual
Shaffer LWS Models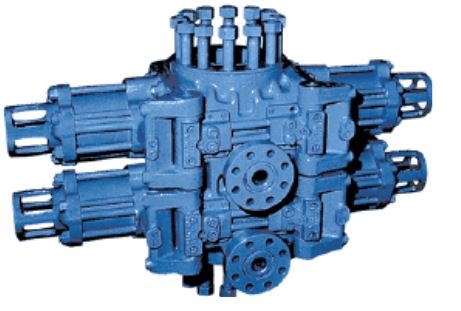 Model LWS blowout preventers have been the most popular Shaffer Ram Preventers and have met the demanding pressure control requirements of the drilling industry for more than 20 years. Many of the features incorporated in the most advanced SL models are included in the LWS design.
Ram now can easily support a 600,000-pound drill string load when a tool joint is lowered onto the closed rams. Also these rams can handle H2S environment.
Secondary ram shaft seals are furnished on all LWS preventers except 4 1/16" 5,000 and 10,000 psi; 7 1/16" 5,000 psi; and 11" 3,000 psi BOPs.
These Shaffer BOP Rams are easily replaced. They slide horizontally onto the ram shaft except on the 4 1/16" 10,000 psi BOP where the ram mounts onto the ram shaft from above.
Poslock operators are available on the 4 1/16" 5,000 and 10,000 psi, 20 3/4" 3,000 psi and 21 1/4" 2,000 psi LWS BOPs.
Manual-lock operators are furnished on all LWS BOPs not equipped with Poslock operators.
Maximum ram hardness is Rc22 to insure H2S compatibility of pipe and blind rams. Shear rams have some harder components
Download Shaffer's LWS BOP Manual
Shaffer BOP Chasovoy Model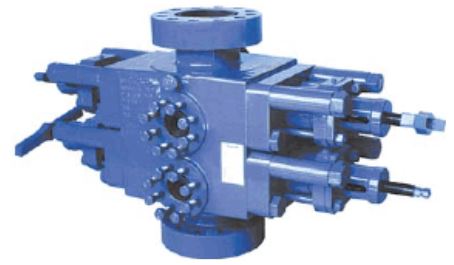 Shaffer's Chasovoy ram BOP was developed to satisfy a number of design, operational and economic criteria and now offers the following advantages:
Unique design permits either manual or hydraulic operation
Manual operation incorporates innovative and proprietary design
Lightweight, short, transportable and easy to install
Simple parts replacement
Economical, but designed to Shaffer's high standards of performance and rugged reliability.
Actually, we didn't find its manual but we are providing another file for all Shaffer BOPs
Shaffer SL SLX Models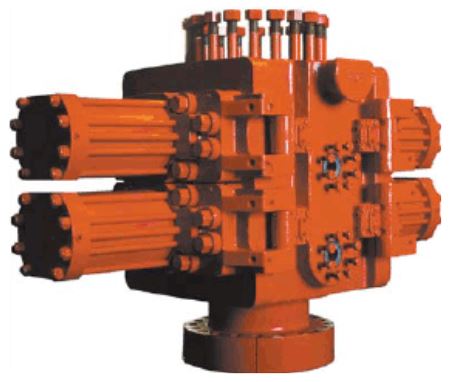 Special Features
Flat doors simplify ram changes. To change the rams, apply opening hydraulic pressure to move the rams to the full open position. Remove the door cap screws and swing the door open. Remove the ram from the ram shaft and replace it. It is not necessary to apply closing hydraulic pressure to move the rams inward to clear the door.
Door seals on most sizes have a hard backing moulded into the rubber. This fabric and phenolic backing prevents extrusion and pinching at all pressures to assure long seal life.
Internal H2S trim is standard. All major components conform to API and NACE H2S requirements.
Maximum ram hardness Is Rc22 to insure H2S compatibility of pipe and blind rams. Shear rams have some harder components.
Manual-lock and Poslock pistons can be interchanged on the same door by replacing the ram shaft, piston assembly and cylinder head.
Wear rings eliminate metal-to-metal contact between the piston and cylinder to increase seal life d virtually eliminate cylinder bore wear.
This types of shaffer BOP rams offer a lip type piston seals that are long-wearing polyurethane with molybdenum disulfide moulded in for lifetime lubrication..
Lip-type ram shaft seals hold the well bore pressure and the opening hydraulic pressure. No known failures of this highly reliable high pressure seal have occurred.
Secondary ram shaft seals permit injection of plastic packing if the primary lip-type seal ever fails. Fluid dripping from the weep hole in the door indicates that the primary seal is leaking and the secondary seal should be energised.
Rams are available which will support a 600,000 pounds when a tool joint is lowered onto the closed rams. These rams conform to H2S requirements.
Shear rams cut drill pipe and seal in one operation. Most common weights and grades of drill pipe are sheared with less than 1,500 psi hydraulic pressure.
Poslock operators automatically lock the rams each time they are closed. This eliminates the cost of a second hydraulic function to lock. It also simplifies emergency operation because the rams are both closed and locked just by activating the close function.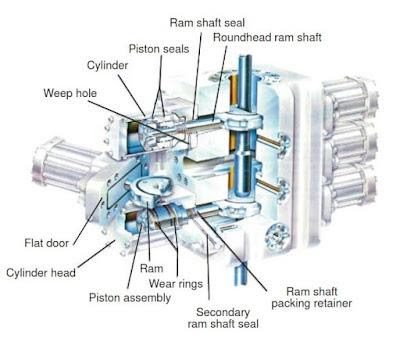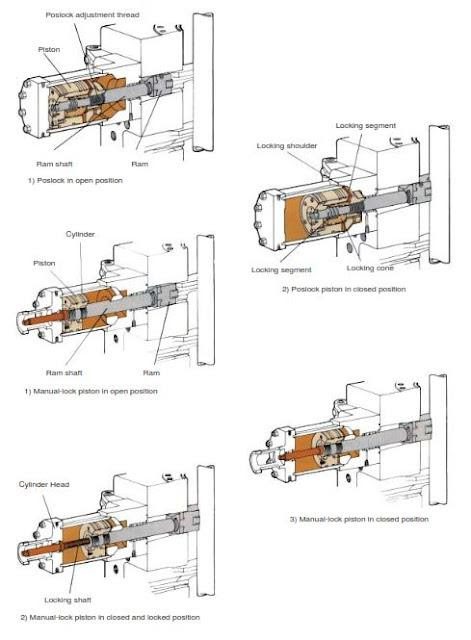 Shaffer Shear Rams
Shaffer BOP Type 72 Shear Rams
Type 72 shear rams shear pipe and seal the wellbore in one operation. They also function as blind or CSO (complete shut-off) rams for normal operations.
The hydraulic closing pressure required to shear commonly used drill pipe is below 1,500 psi for BOP's with 14'' pistons. These pistons are standard in all BOP's rated at 10,000 psi working pressure and higher. On lower pressure preventers, optional 14″ pistons can be supplied for shearing instead of the standard 10″ pistons.
When shearing, the lower blade passes below the sharp lower edge of the upper ram block and shears the pipe. The lower section of cut pipe is accommodated in the space between the lower blade and the upper holder. The upper section of cut pipe is accommodated in the recess in the top of the lower ram block.
The closing motion of the rams continues until the ram block ends meet. Continued closing of the holders squeezes the semicircular seals upward into sealing contact with the seat in the blowout preventer's body and energizes the horizontal seal. The closing motion of the upper holder pushes the horizontal seal forward and downward on top of the lower blade, resulting in a tight-sealing contact. The horizontal seal has a molded-in support plate that holds it in place when the rams are open.
Type 72 Shear Rams are covered by U.S. Patent No. 3,736,982. (Ref fig 6.1.16)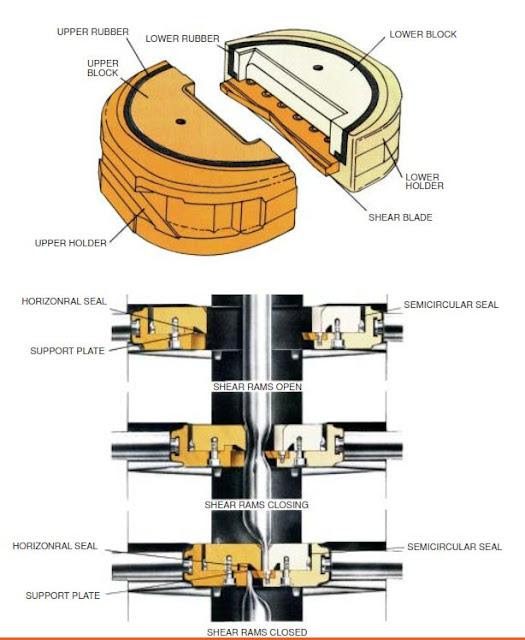 Type V Shear
The Shaffer Type V Shear ram enhances the features of Shaffer's T-72 shear ram by increasing the range of pipe that can be sheared without modification to the BOPs.
V Shear ram is capable of shearing at 20% lower pressures than the standard shears. The Type V Shear rams are capable of shearing 6 5/8" S-135 drill pipe, at less than 2,700 psi operator pressure. This typically allows the shear ram to be put in any ram cavity on the BOP stack without the addition of booster cylinders or control system upgrades. The superior sealing characteristics of the Shaffer T-72 shear ram were maintained in the development of the Type V Shear ram.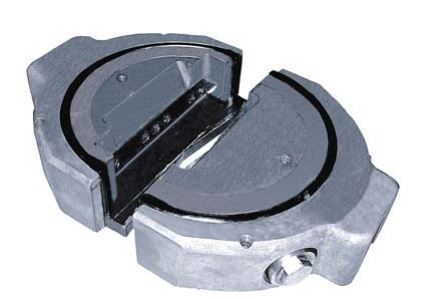 CV Shear
The CV shear rams use Shaffer's existing VShear technology to reduce shear operating pressures while obtaining a reliable seal afterwards. The CV shear ram was developed in response to industry needs for shearing in specific types of applications.
The CV blocks shear and seals within a standard Shaffer 18 3/4" NXT BOP cavity. They are available in Shaffer 183/4" BOPs with pressure ratings of 5,000; 10,000 and 15,000 psi.
Casing Shear
Shaffer has extended the capabilities of shear rams with a casing shear ram which meets the specific cutting needs to physically shear casing tubulars up to 13 3/8" in an 18 3/4" bore BOP.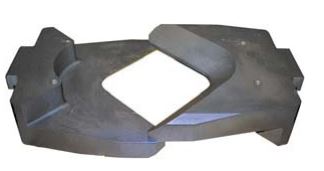 Shaffer Multi-Rams
Multi-Rams Shaffer Multi-Rams can reduce stack height. One set of Multi-Rams closes to seal on pipe sizes ranging from 3 1/2" to 5 1/2" O.D. Rams need not be changed then when running a tapered drill string within this range. In many cases, it also is not necessary to add another ram BOP to the stack to accommodate drill string O.D. changes.
Multi-Rams Shaffer Multi-Rams can reduce stack height. One set of Multi-Rams closes to seal on pipe sizes ranging from 3 1/2" to 5 1/2" O.D. Rams need not be changed then when running a tapered drill string within this range. In many cases, it also is not necessary to add another ram BOP to the stack to accommodate drill string O.D. changes.
Shaffer Multi-Rams interchange with standard rams and with blind/shear rams. You simply open the BOP doors, remove the existing rams and install the Multi-Rams. The Multi-Rams use the same holder and retracting screws as the other ram assemblies. The only new parts are the ram block, top seal and the special packing assembly. When the Multi-Rams close on the drill string, there are steel segments molded into the ram rubbers which move radially inward, decreasing the bore size. Needless to say, substantial rig time is saved in not having to change ram assemblies to accommodate changes in drill pipe sizes.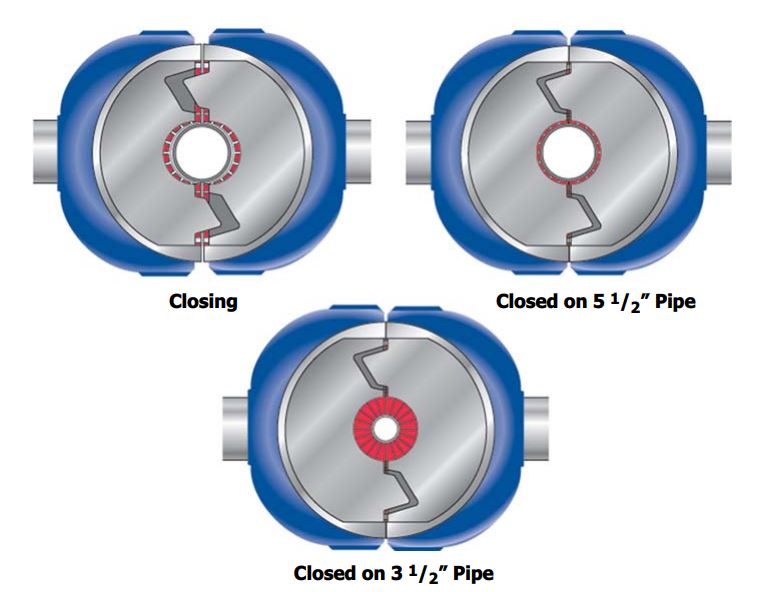 Shaffer Annular BOP Features And Manuals
Shaffer Spherical™ blowout preventers are compact, annular type BOPs that seal reliably on almost any shape or size — oil and gas Kellys, drill pipe, tool joints, drill collars, casing, or wireline. Sphericals also provide positive pressure control for stripping drill pipes into and out of the hole. They are available in bolted cover, wedge cover, dual wedge cover, and NXT models.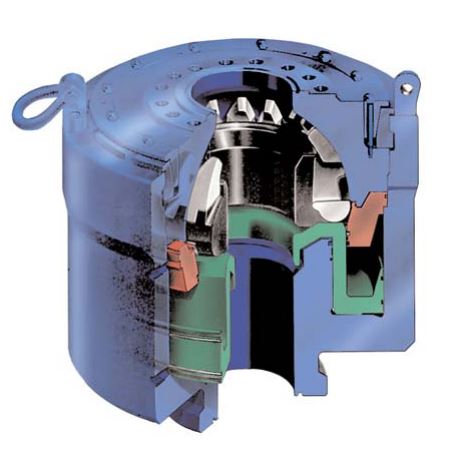 Rugged, reliable sealing element provides positive seal after hundreds of tests to full working pressure.
Strong, simple construction — only five major parts.
Compact body saves space. Height is 15 to 20% less than height of some other annular BOPs.
Simple hydraulic system. Only two hydraulic connections are needed.
Wear rings on moving parts prevent metalto-metal contact. This feature prolongs preventer life.
Suitable for H2S service. Standard models are suitable for internal H2S service, and simple bolt and lifting shackle changes convert them for external H2S service.
Servicing is easy. Element can be changed without getting mud or grit into the hydraulic system.
Steel segments reinforce sealing element but do not protrude into well bore when element is open.
Element design provides long stripping life.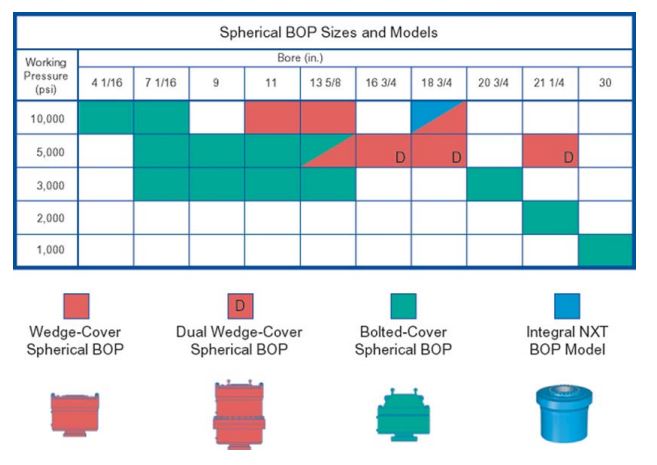 Shaffer Bolted Cover spherical BOP
The Spherical features the following advantages:
Few parts, strong construction
Rugged, reliable sealing element
Steel segments to strengthen rubber sealing element
Smooth, dependable action
Compact, forged body saves space
Easy servicing
Wear bands to prevent metal-to-metal contact
Simple operating requirements
Lightweight models