In this article, you will find a form for a rig floor program you can use on the rig. Also At the end you can download the word file format for the 30″ Conductor Casing Pipe Hammering.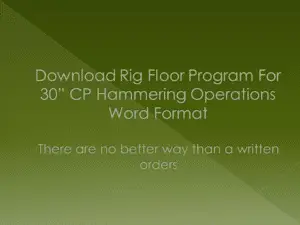 Rig Floor Program For 30″ CP Hammering Format
Actual Situation
Rig at its final position and in operational configuration.
Cantilever over the X well slot.
30" conductor and 26" washing assembly tubular and equipment is on board, hummer equipment and personnel on board (they will perform the welding on CP).
Conductor type: 30″ conductor (30″, 1" WT, 310#, X-56, Leopard SD& 30″, 1.5″ WT, 465#, X-52) The conductor needs to be inspected cleaned and tallied.
Operations
1. Prepare rig floor and pick up 26" washing BHA as follow:
26" Tri-Cone Bit.
Bit sub with float
2 x 9-1/2" DC
Crossover
4 x 8" DC
Crossover 5″ HWDP as required
2. M/up assembly and rack it back in derrick, p/u and m/u XX stands of HWDPs and 5-1/2" DPs to reach 26" phase TD at X ft (Xm).
3. Remove drill pipe elevators and links from the top drive in drilling rig. Remove pipe handler from top drive. Note: If not necessary leave them on.
4. Pick up 60 ft 55 ton conductor handling slings and hammer slings connecting them to the top drive.
5. Using the 60 ft slings pick up and place the S-90 hammer on the rig floor. The total assembly weight should be <15 ton.
6. Connect hammer to the hammer slings and install 30 in elevators onto 60ft slings.
7. Seabed should be tagged at +/- x ft RT. Soft bottom conditions may preclude immediate surface indications of penetration. Record the depth at which the seabed is tagged in morning DDR.
8. The following will be the sequence of joints to be run:
30" Drive shoe 30″ CP 1.5″ WT 456 lb/ft X-56.
+/- xx joints of 30″ CP 1″ WT 310 lb/ft X-56, Leopard SD based on the shoe depth and refusal.
9. Pick up chaser and stab into conductor string. Lower hammer and stab over chaser then hang off chaser from the lead with 2 slings. Connect hammer hydraulic hoses.
10. Pick up next conductor and make up into string.
11. Remove slips and lower string allowing free penetration. When penetration stops, lower hammer and stab chaser into 30″ CP. Lower and carefully rest up to the total hammer weight onto conductor string to aid further penetration
12. Start hammering at minimum hammer energy. Gradually increase to maximum blow energy as required. Drill and drive procedures are anticipated.
13. Numbers of blows are to be recorded every ft; refusal point of x-x blows per foot at the target point will be acceptable as we use the hydraulic hammer.
14. Repeat the above procedure until the conductor shoe is located at +/-x ft below sea bed &refusal point is reached.
15. R/D Hammering equipment.
16. Cut and dress the ID and OD of the 30 in conductor above the conductor deck, leaving enough room to install the 30in slip lock adapter and the 29" 500 psi drilling diverter, weld 2 x3″ valves on 30″, L/D conductor stub.
17. After the conductor is driven, check the derrick to ensure all equipment is securely fastened and will not pose any falling hazard risks (Oil Rig Hazards) during subsequent operations.
18. Install diverter, bell nipple and overboard discharge lines and valves (full test diverter and lines).
Clean out Operation Sequence in Case of early refusal
Weld pad eyes on conductor.
Connect tension lines.
Cut out 30" CP below rotary & L/D same.
R/D GESCO hammer
P/U 26" bit on clean out Assy. & RIH to sea bed
Clean out 30" CP from sea bed to refusal point depth.
Drill out new formation: maximum 5-10ft below refusal point
Sweep hole, periodically w/ Hi-Vis pill while cleaning out.
Pull back to inside 30" CP.
Drop TOTCO. POOH to surface.
L/D bit. R/D pipe handler.
R/U hydraulic hammer & equipment.
Weld one joint of 30" CP.
Remove tension lines.
Cut pad eyes.
Resume Hammering.
If needed repeat the previous steps above.
Note:
while rig proceed with 30" conductor phase will have Mud engineer preparing the mud for the 26" phase and the High Viscous pills for washing down 30" conductor if needed.
Mud logging unit to be installed and sensors/lines rigged up.
Cementer to test CMT unit and hook up CMT Batch mixer.
26" Drilling phase program will follow.
Download Rig Floor Program For 30″ CP Hammering