In Drilling engineering, drilling fluid, also called drilling mud, is used by oil and gas companies to aid the drilling of boreholes into the earth. Often used while drilling oil and natural gas wells and on exploration drilling rigs (Check also types of drilling rigs), drilling fluids are also used for much simpler boreholes, such as water wells. One of the functions of drilling mud is to carry cuttings out of the hole.
In this article, we gathered a list of 25 drilling fluids companies' data found on the internet. Of course, there will be more, and we will update this post occasionally to help any researcher for drilling fluid companies' data. Also, you might be interested in our oil and gas companies list, as we have gathered 100 companies that work in oilfields on the simple list to download.
1 Baroid – Halliburton
Worldwide

Website: Halliburton
Custom drilling fluid company solutions
No two resource plays or even wellbores are the same. There is, of course learning to be gained from similar situations, but that does not mean you can adopt a one-size-fits-all all approach. That's why we invested in the people, processes, and technology to drilling engineer and customize drilling fluid solutions for every specific well.
More accurate planning and monitoring
Besides our fluids systems and chemistries, we, as a drilling fluid company, have made significant investments in digital technology to gather and analyze data and respond more proactively. These technologies help us not only alleviate problems as they arise but predict and avoid them all together.
Risk mitigation and safety
The rigor and thoroughness of our mainstay processes, an adaptation of digital technology, and a focus on engineering fluid solutions customized to local conditions help us to manage risk and improve safety at your well site.
Increase your performance
Our industry-leading technologies, customized approach, and rigorous process have been developed for any resource play anywhere in the world. Once the fluid solution has been customized, the process focuses on proactive monitoring and continual improvement to optimize drilling performance.
Contact Halliburton Drilling Mud Company
Twitter | Facebook | LinkedIn | Youtube
2 Baker Hughes
Worldwide

Website: baker Hughes
Intelligent Fluids Solutions from Baker Hughes are designed and engineered to help you optimize drilling & bit performance (Roller cone bit performance – PDC bit performance). Working with us, you'll gain access to technologies, analysis, and design services, and expert application assistance that deliver severe performance and profitability benefits.
Drill clean, in-gauge holes.
Whether in drilling onshore or offshore rig, our engineered fluid systems help you build out your wellbore more quickly and confidently.
Use fluids fine-tuned for your formation.
Work with our fluids engineers to design a drilling fluid tailored to your rock formations, clays, and other minerals that might interfere with your drilling progress.
Manage waste with less worry.
Overcome the environmental challenges of storing, using, and safely disposing of spent fluids with our fluid environmental services.
Let's work together to develop an Intelligent Fluids Solution that will optimize your drilling performance and maximize the long-term value of your oil and gas wells.
Contact Baker Hughes Drilling Mud Company
Twitter | Facebook | LinkedIn | Youtube
3 M-I SWACO – A Schlumberger Company For Drilling Fluid Solution

Website: slb
M-I SWACO became a Schlumberger company in 2010. Innovative drilling fluid engineers are at the Company's core, helping oil and gas operators increase efficiency and lower costs. We do this by developing drilling fluid systems and additives that accommodate various drilling environments and demanding applications—including HPHT, deepwater and ultradeep water, shale gas, heavy oil, depleted wells, and more.
Proven solutions for downhole challenges—from the simple to the complex
Specialized additives complement the efficiencies of our advanced drilling fluid systems by targeting performance-hindering downhole conditions, eliminating or minimizing the problems that drive up costs and threaten the drilling program. For example, we were the first to introduce cost-effective, high-efficiency micronized barite technology to water- and oil-based drilling fluids.
Tailored fluids and additives for optimal efficiency and reduced cost
Our base fluids and additives are tailored for specific well-construction applications. The custom formulation helps you maintain wellbore stability, optimize ROP, and increase overall drilling efficiency while reducing NPT and minimizing HSE footprint.
4 Weatherford Drilling Mud Company
Worldwide

Website: Weatherford
Weatherford is the leading wellbore and production solutions company, providing integrated solutions across well stages healthy customer domains to the oil and gas industry.
We integrate trusted technologies with innovative ideas to help finish wells earlier and produce more for longer.
Oil and gas producers face unique challenges every day, so our job is to create solutions that enhance safety, streamline operations, and sustain uptime to meet or exceed their targets. We operate across the global energy landscape, employing some of the best talent in the industry. Explore the pages below to learn more about what we offer and what we stand for.
There is no fluid requirement that we can't meet. We can fulfill most needs with a deep selection of drilling, drill-in, and completion fluids. Our global labs are the ultimate in custom fluid systems for unique environments. Our fluids help mitigate drilling hazards (Oil Rig Hazards) and optimize bit performance and cuttings transport from aqueous to specialty systems.
Contact Weatherford Drilling Fluids Company
5 NewPark Drilling Mud Company
North America | Latin America | Europe / Middle East / Africa (EMEA) | Asia Pacific (APAC)

Website: new park
Newpark is changing the paradigm in our industries, developing new ways to help customers drive operating efficiencies while working in harmony with the environment and improving community relations. We are headquartered in The Woodlands, Texas, and serve markets around the world, with an established presence in North and South America, Europe, the Middle East, Africa, and the Asia Pacific, demonstrating our commitment to be a strong and reliable partner for our customers, wherever they need us to be.
At the heart of our culture is the drive to establish our reputation as the global technical leader in fluid systems and matting products. In 2013, we opened our Fluids Technology Center, which serves as the focal point for developing next-generation fluids systems technologies. In 2015, we completed the Mats R&D Center to support the continued advancement of our premium DURA-BASE® advanced-composite matting system and the development of other innovative matting products as we expand into new markets and geographies.
Superior customer service quality remains a critical element of our mission and success. We seek to help our customers worldwide solve tough challenges in ways other companies cannot. Our customers rely on us to help them drive efficiencies, reduce operating costs, and meet or exceed their environmental stewardship goals.
Twitter | Facebook | LinkedIn | Youtube
Contact NewPark Drilling Mud Company
6 Stellar Drilling Fluids Company
Houston | Midland | Oklahoma City

Website: stellardrillingfluids
Stellar Drilling Fluids provides Water base and Non-Aqueous drilling fluids, drilling chemicals, specialty products, and technical expertise. We utilize comprehensive drilling fluid reporting software to track trends of fluid properties, product concentrations, volumes, and product inventory to maintain a stable wellbore and prevent nonproductive rig time. Our hydraulics software models downhole conditions based on current drilling mud properties and drilling practices to help with the planning and execution of the well.
Contact Stellar Drilling Fluids Company
7 Drilling Fluid Technology Co
United States

Website: DFT online
Drilling Fluids Technology has supported the oil and gas industry with a complete line of quality products and services since its inception as a mud company in 1985. DFT provides our customers with strong technical expertise and superior service through safe, cost-effective application techniques. Unlike most service companies, DFT has a complete line of complimentary products and services that can be packaged to meet our customer's needs.
Contact Stellar Drilling Fluid Company
8 Horizon Mud For Drilling Fluids Company
United States

Website: horizon-mud
35 years in business. Over 18,000 wells were serviced.
Horizon Mud Company is a full-service drilling fluid company headquartered in Midland, Texas, with other strategic locations across the U.S.
Horizon has serviced over 18,000 wells to date. We've earned our reputation by being honest and accountable to our customers at every turn. And our high level of consistent, reliable service has been the hallmark of what we deliver on every well. The oil industry has undergone many challenging "boom and bust" cycles through the years, yet Horizon Mud Company has continued to be "On Call" for over three decades.
Horizon Mud Company was founded in 1980 by Tony Farish. Tony continues to serve as president and CEO. His brother Ronnie Farish joined the Company in 1981 and continues to serve as Vice President and COO.
At Horizon, we don't just deliver your mud. We work alongside your drilling team every step of the way, day after day, for as long as it takes.
9 NESR
Algeria | Bahrain | Chad | Egypt | India | Indonesia | Iraq | Kuwait | Libya | Oman | Qatar | (Saudi Arabia Oil History) | UAE

Website: near
National Energy Services Reunited Corp. (NESR) was founded in 2017 as one of the largest national oilfield services providers in the MENA and Asia Pacific regions and was the first national Company from the MENA region to be listed on the NASDAQ. With over 5,000 employees representing more than 60 nationalities in over 15 countries, NESR helps its customers unlock the full potential of its reservoirs by providing production services such as hydraulic fracturing, cementing, coiled tubing, filtration, completions, stimulation, pumping, and nitrogen services. NESR also enables its customers to access their reservoirs more efficiently by providing drilling and evaluation services such as drilling downhole tools, directional drilling, fishing tools, testing services, wireline, slickline, drilling fluids, and rig services.
As the "National Champion" of MENA with operations spanning across all the major oil and gas basins in the region, NESR prides itself on delivering exceptional service and deploying optimal technical solutions to solve the challenges of its oil and gas customers while striving to promote the economic development of the countries in which it operates.
Address: 777 Post Oak Blvd., 7th floor, Houston, TX, 77056, USA
Phone: +1.832.925.3777
E-mail: [email protected]
10 Conquest Drilling Mud Company

Website: conquest drilling
The drilling fluids products on the market today are, for the most part, generic. In other words, the mud is the same; the difference is in the color of the sack.
What sets Conquest Drilling Fluids apart is the large team of senior engineers on our staff. When drilling a well, problems happen instantaneously and can become unmanageable rapidly. Something acquired only through years of experience is the ability to listen to the well and provide a proactive solution to the problem rather than a reactive one. Optimizing drilling performance and resolving a problem before it becomes a disaster is why we say, "We deliver mud, but we sell service."
This focus begins with engineering and planning. Before spud-in, a punch list of well problems is considered with all protocols needed and products delivered on location with the first spud load. This allows our engineers to be prepared, optimize performance, avoid potential problems, and be ready to resolve problems as they arise.
Our management believes in a hands-on approach. Each person is involved in the preparation of the well, from the field engineer to the company president. Status reports on each well's progress and performance are reviewed daily, and a one-on-one consultation between field personnel and management is held. The rig doesn't sleep, and neither do we. Conquest Drilling Fluids' engineers are on site or just a phone call away. Our customers are our number one priority, and their complete satisfaction is our fundamental objective.
With Conquest, you're hiring not just one of us but the whole team – from lab research to application in the field. Our team will strive to make your well run smoothly and efficiently and help avoid costly setbacks.
Contact Conquest Drilling Fluids Company
11 AES Drilling Mud Company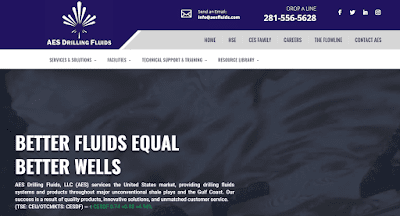 Website: aesfluids
Leading the Drilling Fluids Market AES Drilling Fluids services the United States market, providing drilling fluids systems and products throughout major unconventional shale plays and the Gulf Coast. Our success results from quality products, innovative solutions, and unmatched customer service. AES Drilling Fluids is prepared to successfully deliver on any challenging project from the well site to the customer office. Customer service is central to our success.
AES strives to build and maintain relationships with our customers to stay ahead of their needs as drilling programs grow. From single-well projects to extensive drilling campaigns, the people at AES have the experience to provide products and recommendations that minimize costs. As part of the CES Energy Solutions family, AES Drilling Fluids designs and manufactures products specifically for customer needs while ensuring product quality and reliability.
From raw materials to finished products, AES has the expertise and resources to serve our customers. AES continues to grow with the success of our customers, expanding, upgrading, and adding to our infrastructure to ensure the timely delivery of critical products in the areas our customers operate.
Twitter | Facebook | Instagram
12 M&D Industries Drilling Fluids Company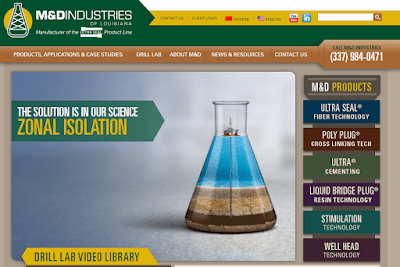 Website: drilllab
A WORLD-CLASS DRILLING FLUIDS COMPANY SINCE 1978, M&D INDUSTRIES OF LOUISIANA HAS SPECIALIZED IN THE CREATION AND MANUFACTURING OF INNOVATIVE DRILLING FLUIDS TECHNOLOGY.
M&D Industries Since 1978, M&D Industries of Louisiana has focused on creating drilling fluid technologies that address the unique challenges the oil and gas industry faces. Our goal has always been to provide our clients with innovative products that minimize lost time and increase operational effectiveness.
For more than three decades, we have worked closely with operators and technology providers, providing each of them with personal service when they needed it most – quickly defining drilling fluid scenarios, assessing current options, identifying gaps, and ultimately creating or customizing drilling fluid technologies that enabled them to reach their targets and achieve financial success.
M&D understands the engineering foundations of drilling, workover, and completion operations, and we know every well is unique, so we create customizable drilling fluid technologies to meet well-specific needs. When you contact M&D, we provide a solution tailored to your challenge, saving you time and money.
M&D's products, which include additives, cement spacers, sealants, and other high-tech, customizable solutions, are made in America at our secure 100,000-square-foot warehouse and manufacturing facility. All products are lab tested per a strict QA/QC protocol, and each bag, pail, or tote is stamped with a QA/QC number, and samples are retained for two years. All products are proprietary, patented, and are trade secrets.
Drawing on our formidable experience worldwide, M&D's technicians can provide field support and training to operators. Through our partner network, we also provide testing services. Please contact us to learn more.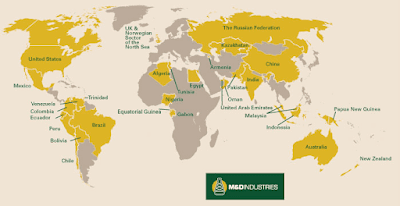 13 Valence Drilling Fluids Company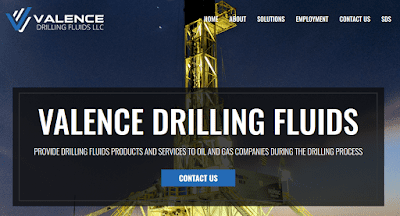 Website: Valencedf
Valence Drilling Fluids, LLC began operations in the Mid-Continent on October 1, 2017. While the Company is new to the industry, the staff comprises some of the most seasoned industry veterans with over 200 years of combined experience. Valence Drilling Fluids is dedicated to providing customers with revolutionary drilling fluids products and exceptional field services.
The mission of Valence Drilling Fluids, LLC is to provide our customers with cutting-edge technology, high-quality products, reliable field service, and overall exceptional customer service. The Company believes in providing customers with quality products and services that fit their needs. They are focused on providing services with integrity, honesty, and respect for our customers and ourselves. In addition, they aim to become the go-to name in the drilling fluids industry by providing the highest quality customer service.
Key Services
Drilling Fluid Products,
Manufacturing & Logistics
Customized Drilling Fluid
Engineering Services
Completion Fluids
Solid Control
Valence Drilling Fluids, LLC has a liquid mud storage facility in Kingfisher, OK. The Company is expanding that facility to provide our customers with more options for water- and oil liquid mud. Valence Drilling Fluids can provide complete drilling fluid services in all the major basins. The Company also has a laboratory in Chickasha, OK, that can provide testing services for their customers and develop new technology.
Contact Valence Drilling Fluids
14 Kraton Company

Website: Kraton
Kraton offers a unique combination of pine chemicals and specialty polymer products for oil and synthetic-based drilling fluid systems. Leveraging this broad portfolio and our commitment to customer collaboration, Kraton is motivated to bring the next generation of value-added sustainable solutions to the market.
Chemicals
As the world's largest manufacturer of pine chemicals, Kraton has delivered quality solutions to the market for over 50 years. We manufacture crude tall oil, distilled tall oil, tall oil fatty acids, dimer, and trimer acids as intermediates for emulsifiers and rheology modifiers in drilling fluids.
Products
SYLFAT™ tall oil fatty acids
UNIDYME™ dimer acids
SYLVATAL™ distilled tall oils
SYLVABLEND™ heads and specialty blends
Polymers
Kraton styrene block copolymers (SBC) are uniquely suited for oil and synthetic-based fluids through nano-scale micellar technology. These products have demonstrated value in barite sag mitigation, rheology modification, and fluid loss performance.
Contact Kraton Drilling Fluids Company
15 BCS Company

Website: Boreholecontrol
Leading the Way in Drilling Fluid Technology
While some drilling fluids companies provide drilling fluid products, BCS Fluids, LLC (BCS) provides solutions.
We offer a full line of standard and proprietary drilling fluids, additives, and other related products and custom-engineered technologies to solve complex drilling fluid challenges along the US Gulf Coast and in all major plays in the United States.
Our service offerings complement our suite of products, providing customers with cost-effective drilling fluids solutions for the project's duration.
Still, BCS is more than just a drilling fluids company or provider. We take great pride in building trusted customer relationships by delivering the right solution to complex challenges.
Contact BCS Drilling Fluids Company
16 ChemFor Drilling Mud Company
Holland

Website: chemfor
CHEMFOR is a young, energetic, and flexible drilling fluids company that supplies products and services to various clients. We primarily service the oil and gas, geothermal, and salt drilling industries, but our expertise has also proven valuable in other operations such as HDD, civil works, and wastewater treatment.
CHEMFOR is a highly flexible, solutions-driven, and professional service company. Through our extensive network of suppliers and strategic partnerships, we can offer a complete line of services at a competitive price. No strings attached.
CHEMFOR was founded in 2015 in France and emerged as one of the world's leading drilling fluids companies. After a successful first year, an additional office was set up in The Netherlands in late 2016: CHEMFOR HOLLAND B.V.
And while the Company is new, the team behind it is a group of experienced oil field professionals with an extensive working history and a can-do attitude.
We don't deliver just products. We bring solutions.
Contact Chem For Drilling Fluid Company
17 Hamilton Technologies Limited
Nigeria

Website: hamiltontechnologies
Our specialties in drilling include but are not limited to the following:
Mud Engineering/drilling Support Services
Drilling And Completion Fluids
Civil Engineering and Construction
Bulk Methanol Supply Services
Logistics And Allied Services
Production and Treatment Chemical
Experience
Hamilton Technologies Limited has, over the years, gained cogent onshore and offshore experience in Drilling Fluids Services. Hamilton's in-country infrastructure is well set up to service Deepwater Projects. Hamilton Technologies, a drilling fluids company, is also the primary provider of Bulk Methanol for the major IOCs in Nigeria.
Nigerian Content
Hamilton Technologies Ltd is a 100% indigenous company. The board of directors, management team, and personnel are all Nigerians. The project location and procurement centers are all domiciled in Nigeria. All engineering designs and fabrication are carried out in Nigeria. Our financial institutions are Nigerian-based.

18 Dynamic Drilling Mud Company
United States

Website: Ddfluids
Dynamic Drilling Fluids was formed in 2008 by Ray Gibson and Jason Ferguson. Combined, they provide over 50 years of drilling fluids experience. By hand-selecting top-rate engineers to bring aboard, Dynamic Drilling Fluids amplified the experience level, offering well-specific engineering proficiency..
Dynamic Drilling Fluids is the premier drilling fluids, specialty additives, and engineering services provider in the Gulf Coast and the Permian Basin.
Products
We provide the following products and services:
Premium Drilling Fluids
Specialty Additives
Engineering Services
Contact Dynamic Drilling Fluids Company
19 Ingevity Drilling Fluid Company
United States
Website: Ingevity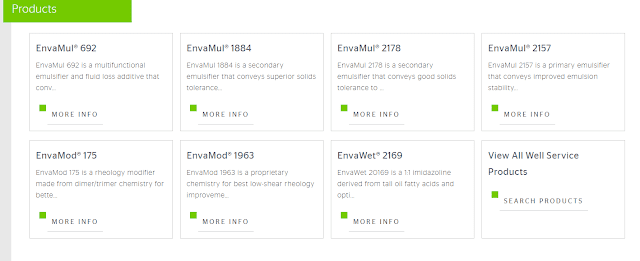 Ingevity provides specialty chemicals, high-performance carbon materials, and engineered polymers that purify, protect, and enhance the world around us. Through a team of talented and experienced people, Ingevity develops, manufactures, and brings to market products and processes that help customers solve complex problems. These products are used in a variety of demanding applications, including asphalt paving, oil exploration and production, agrochemicals, adhesives, lubricants, publication inks, coatings, elastomers, bioplastics, and automotive components that reduce gasoline vapor emissions. Headquartered in North Charleston, South Carolina, Ingevity operates from 25 locations worldwide and employs approximately 1,850 people.
Contact Ingevity Drilling Fluid Company
20 Viking Drilling Fluid Company
Turkish | Middle Eastern | North African | European markets

Website: Viking-intl
Viking International has provided Drilling Fluids services with proven quality since 2010; the Drilling Fluids team has designed and applied solutions for more than 200 Oil and gas and 60 Geothermal wells projects in Turkey. We have a track record of long-term customer satisfaction with our expertise and operational capabilities to adapt to varying needs. Viking Drilling Fluids team has maintained a long-term operational relationship with numerous oil, gas, and geothermal energy operators thanks to its approach to setting higher oilfield standards. So far, the solutions offered provided observable advancements for our clients' operations. Nevertheless, Viking always carries the performance to the next step with research and development activities to minimize environmental effects, risks, and costs.
"Mud Engineer" is the name given to an oil field service company individual who is charged with maintaining a drilling fluid or completion fluid system on an oil and/or gas drilling rig. This individual typically works for the drilling fluids company and is specifically trained in drilling fluid technology and drilling chemicals.
Anticipate and determine how specific combinations of drilling fluid products will behave in the downhole environment as part of the mud program.
Prepare mud programs.
On-site engineering services for drilling and well completion fluids.
Deliver drilling fluid products to the client's location.
Optimize drilling performance and minimize the risk associated with fluids-related problems.
Monitor solids control systems.
Pressure control.
The cost of drilling fluid is typically about 10% (may vary significantly) of the total cost of drilling a well.
Contact Viking Drilling Fluid Company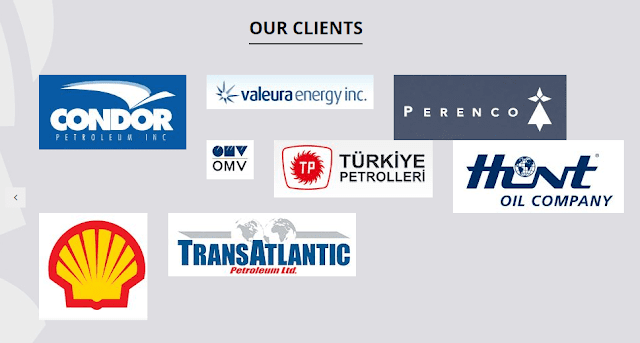 21 Impact Drilling Fluids Company
Asia Pacific | Saudi Arabia | Canada | Kuwait

Website: impact-fluids
The Impact Fluid Solutions team brings extensive engineering and operational experience in drilling, completions, and production. That deep oilfield insight enables us to identify unmet needs, develop products that address real challenges, and provide expert on-site customer support. The Impact is a trusted and dependable partner to operators and service companies, working hand in hand with customers to ensure our oilfield additives meet their needs and deliver maximum efficiency.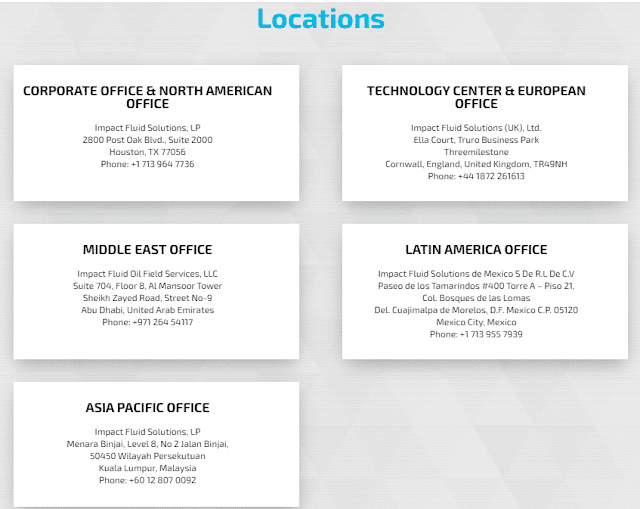 Contact Impact Drilling Fluids Company
22 Professional Drilling Fluid Company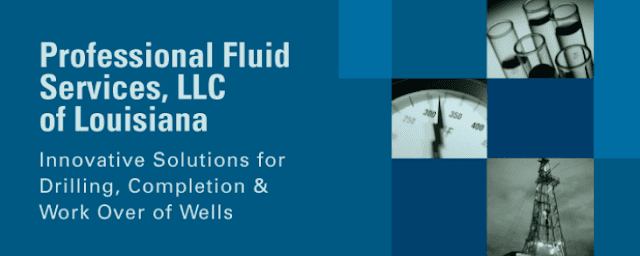 Website: Professionalfluid
PROFESSIONAL FLUID SERVICES, LLC. A WORLD-CLASS DRILLING FLUIDS COMPANY SINCE 1999, PFS HAS SPECIALIZED IN THE CREATION AND MANUFACTURING OF INNOVATIVE DRILLING FLUIDS TECHNOLOGY.
Since 1999, Professional Fluid Services has worked shoulder to shoulder with operators and technology providers to clearly define drilling fluid scenarios, identify operational gaps, and custom-tailor technologies designed for a full spectrum of applications. Utilizing extensive knowledge in the foundations of drilling, workover, and completion operations, we craft efficient, cost-effective solutions that minimize lost time and increase operational effectiveness throughout the life of your well. In addition to our suite of innovative drilling fluid products, Professional Fluid Services also offers the services of our experienced technicians, who can provide field support, operator training, and testing services.
PFS's products, which include additives, cement spacers, sealants, and other high-tech, customizable solutions, are made in America at our secure warehouse and manufacturing facility. All products are lab tested per a strict QA/QC protocol, and each bag, pail, or tote is stamped with a QA/QC number, and samples are retained for two years. All products are proprietary, patented, and are trade secrets.
Drawing on our formidable experience worldwide, PFS's technicians can provide field support and training to operators. Through our partner network, we also provide testing services. Please contact us to learn more.
CONTACT US TODAY TO LEARN HOW OUR DRILLING FLUID TECHNOLOGY CAN IMPROVE YOUR PRODUCTION CAPACITY.
Contact Professional Drilling Fluid Company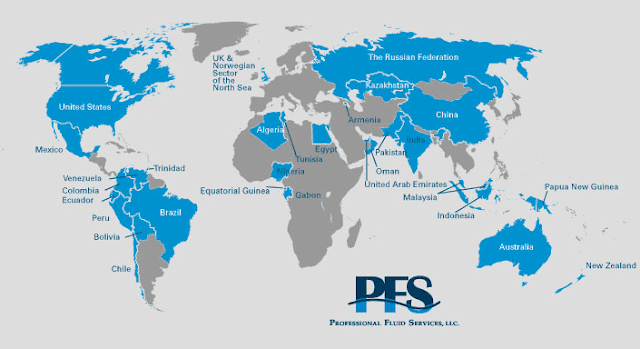 23 Brenntag Drilling Mud Company
Poland

Website: Brenntag
Brenntag Polska offers a full range of additives for drilling fluids and cement grouts, which increase efficiency, lower costs, and minimize the health and safety impact. We constantly develop our additives to meet the most stringent requirements, including HTHP.
Our Company is the largest distributor of additives for drilling fluids in Poland, from simple products to highly specialized ones. We also offer customized solutions and products, including designing and preparing packer fluids, acid-treatment (inhibited) mixtures, and drilling fluids.
OUR PRODUCT GROUPS INCLUDE
Thickeners
Filtration control
Weighting agents
Fluid loss control agents
Corrosion inhibitors
Lubricants
Deflocculants
Clay swelling inhibitors
Biocides
Defoamers
Surfactants
Hydrogen sulfide and oxygen scavengers
Hydraulic fracturing
Functional additives
24 RichTerra Drilling Mud Company
Canada | India | USA

In Oil and gas, RichTerra Energy Services Co (RESCO) provides Well Construction Engineering and Planning, Contract Drilling, Directional Drilling, Wireline Services, Geological Services, Seismic, and Drilling Equipment Rental Services.
For the Mining industry, we provide drilling services, mine planning & construction engineering services, and mineral exploitation and mine safety services.
In 2012, RichTerra Corp diversified its operations and expanded its services in the offshore oil industry by providing Helicopter Transportation Services, Canteen/Catering Services & Offshore Logistics.
RichTerra ventured into the Power EPC generation, transmission, and distribution business in 2014. As an emerging Power & EPC company, RTC is currently involved in rural and city Electrical Transmission and distribution work in India and has collaborated with some of the significant T&D Companies and Electrical Equipment Manufacturers from China and Canada.
In 2013, RichTerra formed a strategic alliance with Daqing Jingtai Drilling Services Company to provide integrated drilling services in the Asian and African markets through Daqing RichTerra Energy Service Co (DRESCO).
In 2013, RichTerra also decided to expand its business in the OCTG sector and allied with one of China's largest manufacturers of OCTG products. The collaboration with Shengli Oilfield Highland Petroleum Equipment Co. Ltd. opens the doors for RichTerra Corp to provide a complete line of superior quality OCTG products to the Asian & African oil and gas industry.
With a vast assortment of proven technology and a reliable knowledge base, RichTerra offers a large selection of qualified, experienced professionals with land-based, inland barge, shelf, and deep-water operations experience.
Drilling Fluid Engineers
Completion Fluid Engineers
Geothermal Engineers
Compliance Engineers
Mud Plant Coordinators

25 Global Drilling Fluids And Chemicals Limited Company
India

Website: Globaldrillchem
"To be the single source and total solution Provider of Drilling Fluids and Mud drilling chemicals for the Oil Drilling and Exploration and Mining Industry. Ensuring the development, manufacture, and supply of the Highest Quality and most environmentally friendly chemicals. To be the benchmark for Quality and reliability and ensure timely deliveries worldwide. "
Global Drilling Fluids and Chemicals Limited is India's Single Largest Manufacturer of Specialty Drilling Fluids and Mud Chemicals For Oilfield and Mining Applications. Global Drilling Fluids & Chemicals Limited went into commercial production in 1990. Corporate Offices are located in New Delhi NCR. Eight Independent Manufacturing Units located in Various Parts of the Country and Two State-of-the-art R&D and testing facilities make us one of the most Diverse Manufacturers of Specialty Drilling Fluids and Mud Chemicals worldwide. As India's largest manufacturer and supplier, we deal in oil drilling fluids, oil drilling chemicals, drilling chemicals, mud chemicals, oilfield chemicals, and drilling fluids.
The Company's products and Services Include:
Drilling Fluids and Specialty Chemicals for Oilfield and Mining applications
Mud Chemicals and workover/completion fluid
Chemicals for well stimulation. Production chemicals and general utility chemicals.
Testing Services for Drilling and Other Chemicals, Oils and Fuels
Onsite Testing Facilities and Environmental testing
Manufacture Supply and Commissioning of Complete Mud Services Laboratories
Rental and Sales of Filtration Units and Portable Mud Laboratories
Mud Filtration and Waste Management Services
Contact Global Drilling Mud And Chemicals Limited Company.
Note:
I have gathered all this data from the internet. I am not confirming the reality of these data.