A fish can be defined as a part of the drill string or completion string that already parted, cut, or lift in the hole. This may be due to a mechanical problem in the string or due to being cut after a sticking problem and unsuccessful trials to free. These are non-drillable items that must be retrieved before resuming drilling or completion operations. You will discover in this article the full collections of fishing tools in oilfields. Also, you can download NOV, Baker Hughes & Schlumberger catalogs.
We have already categorized them into 4 main categories which are: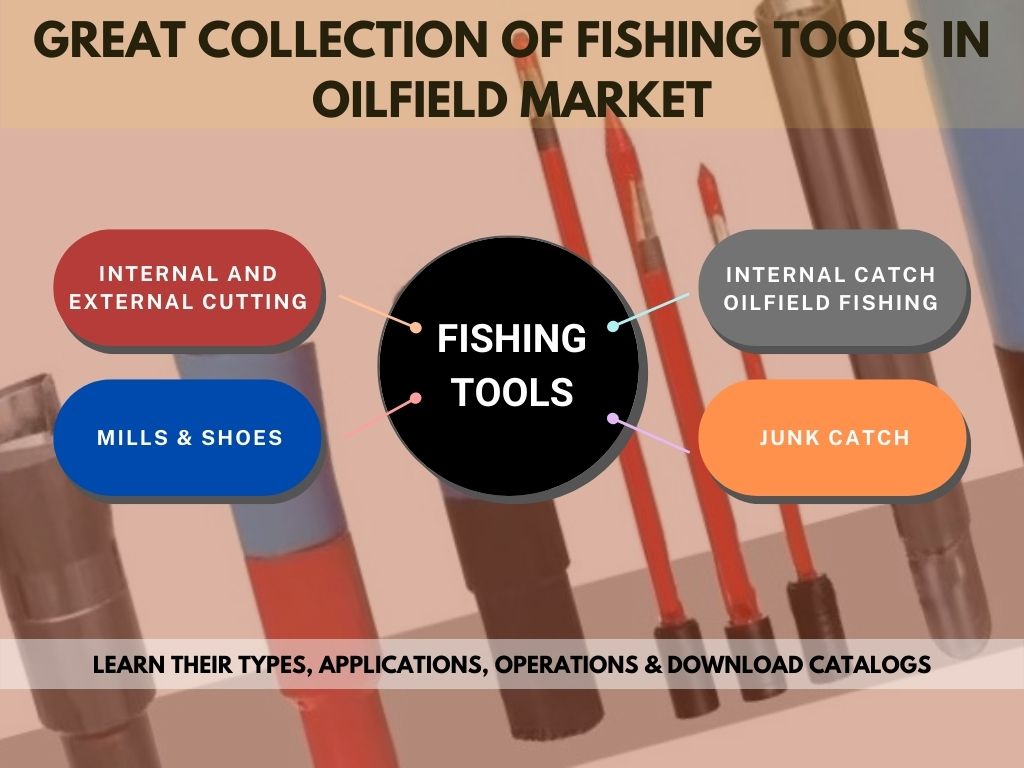 Internal And External Cutting Tools
Internal Catch Oilfield Fishing Tools
Mills & Shoes
Junk Catch
Internal And External Cutting Tools
These tools are applicable for cutting casing, drill pipes, or tubing in an intervention operation. Check also (Chemical Cutter).
Hydraulic External Cutters
The hydraulic external cutters have hydraulically actuated tubing and drill pipe mechanical cutters. It is designed to apply a predetermined and controlled amount of pressure on the cutters, thus giving the operator liable control.

It is mandatory to run the tool with enough wash pipe to cover the fish and the workstring is elevated until reaching the required depth.
Multi string Cutter
The Multi string cutter is hydraulically operated by drilling fluid pressure acting against a piston applicable for cutting through multiple large diameter casing string types.

After applying pressure, the piston will move to force the knives to pivot about the knife pins. When the knives are fully opened, the indicator contacts its stop. Then, drilling fluid starts to flow through the indicator and a sudden pressure drop occurs which is an indication that the cutters are fully open.
It can be used also in subsea operations when there is a need for slot recovery.
Inside Hydraulic Cutter
With the assistance of hydraulic actuation consisting of a Body, with multiple Knives and Knife Pins: actuated by a Piston with a Pressure Relief Valve System, we can cut the single string of casing.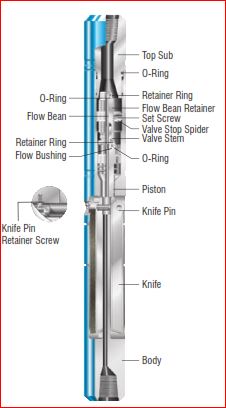 After reaching the required depth of cut, start rotation (30 to 50 RPM) then start the pump that will move the piston to open the knives. With the pressure or torque drop, we will have the indication that the tool finished its work.
Inside Mechanical Cutter
Each cutter consists of a wiper block employed to set the tool inside the casing, a slip and cone assembly for anchoring, wedge-like Knife Blocks to drive the Knives, and a cutting assembly with tool steel or knives. Depending on the diameter of the pipe needed to be cut, the mechanical cutter may be run on sucker rods, macaroni strings, tubing, or drill pipe.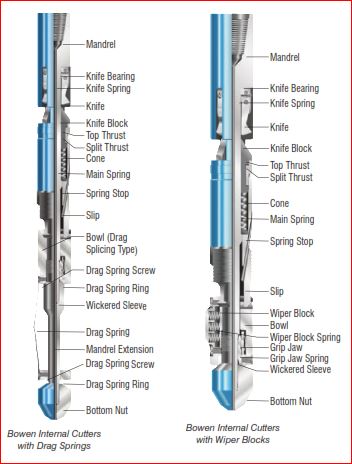 External Catch Oilfield Fishing Tools
This category contains the oilfield fishing tools that catch from the outside. Similar to the internal catch category, they help you recover the fish by using a grapple or by threading directly. Many of oilfield ex-pats prefer to try the external catch category first if it is feasible.
Overshot
The Overshot is used mainly to externally engage, pack off, and pull a fish. It is composed of three outside parts, namely the top sub, guide, and bowl. We can say that it is the standard of all external engagement fishing tools.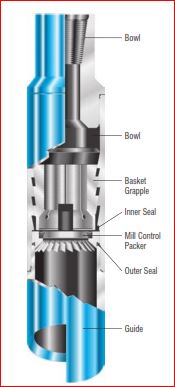 During the fishing operation, as we rotate and lower the overshot tool, its grapple will expand when the fish is engaged, allowing the fish to be swallowed. Then, once you pull the string, the grapple is contacted by the tapers contained in the bowl and now you engaged the fish.
There are different designs on the market as Bulldog, Kelo socket, TMF, Series 150 Bowen, series 10 sucker rod, series 20 Bowen, series 70 Bowen, and more. There are also many accessories that you can use depending on the situation you have. Just try to get help from the fishing contractor you have.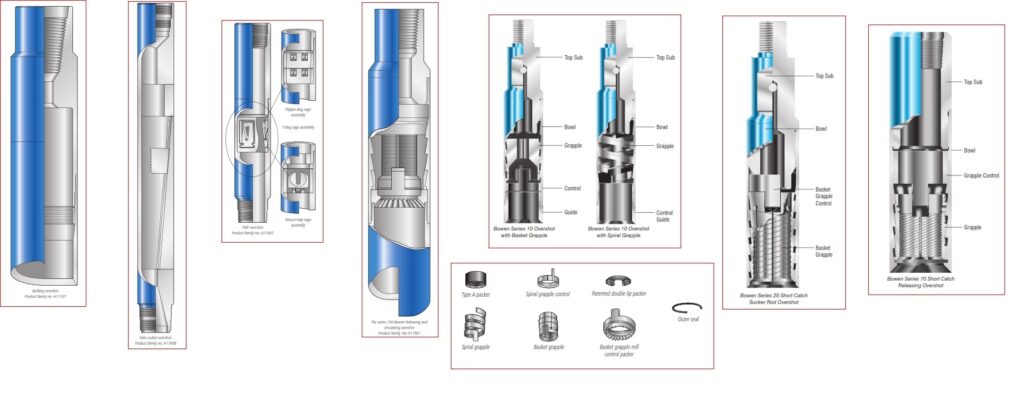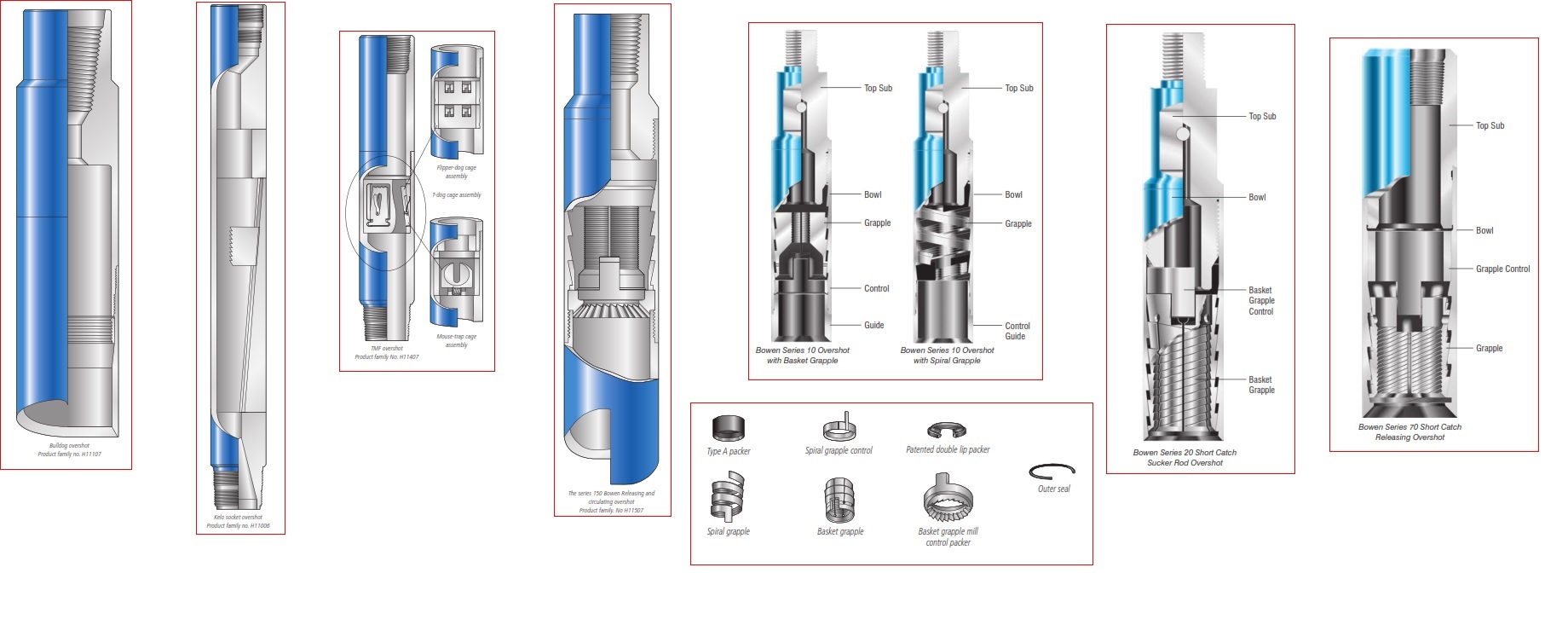 Box Tap/Die Collar Fishing Tool In Oilfield
The box tap engages the outside of a fish when the fishing overshot is unable to catch the fish. It simply tried to make threads where no threads are present on the T.O.F. We can use it to retrieve bridge plugs, tubular, and wells packers.

Once you tag on the top of the fish, rotate the string slowly with free torque. Then lower the string slowly till the torque starts to increase. As the torque increase, you shall keep lowering the string slowly. Once the engagement is confirmed, start pulling and jarring.
Internal Catch Oilfield Fishing Tools
These tools can be used to engage the fish in its inside diameter. They are using either grapple or threading to catch the fish from inside.
Fishing Spears in Oilfield Tools
The releasing or fishing spear is considered one of the cost-saving tools to engage the fish internally. It consists of a mandrel, release ring, grapple, and nut to assist in fast engagement and release. It can be used in the fishing of drill pipe, casing, tubing, and downhole equipment with IDs up to 20 in that can't be retrieved with the external catch type.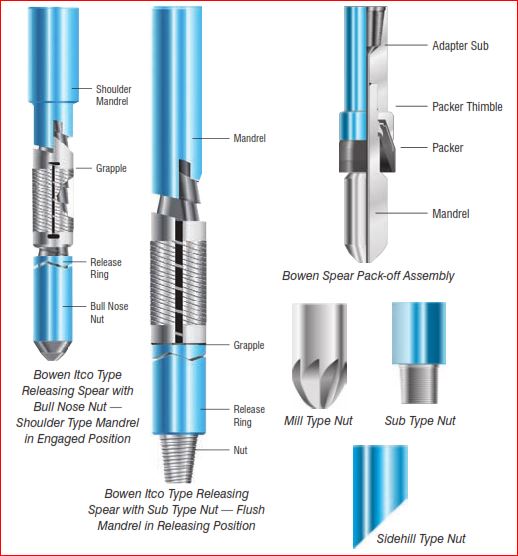 Some designs engage the fish over a large area to minimize damage or distortion of fish. To Engage the Fish with Bowen type, all you have to do is to rotate the spear so that the mandrel will move one full turn, which will force the grapple to engage the fish. With more pull, the spear will positively engage the fish.
Baker Hughes had something called spear back off which is great to use below your spear. It allows you to pump mud and apply pressure to the fish. We believe that this will improve the lifting power of the fish by improving the cleaning around the fish.
There are many designs in the market, just try to find the most applicable one: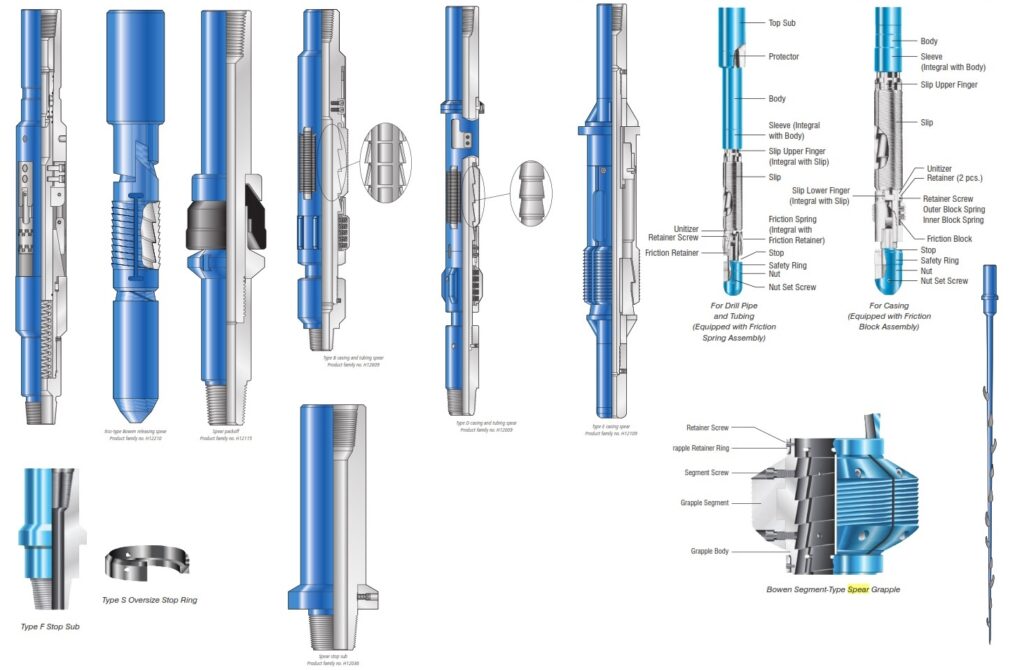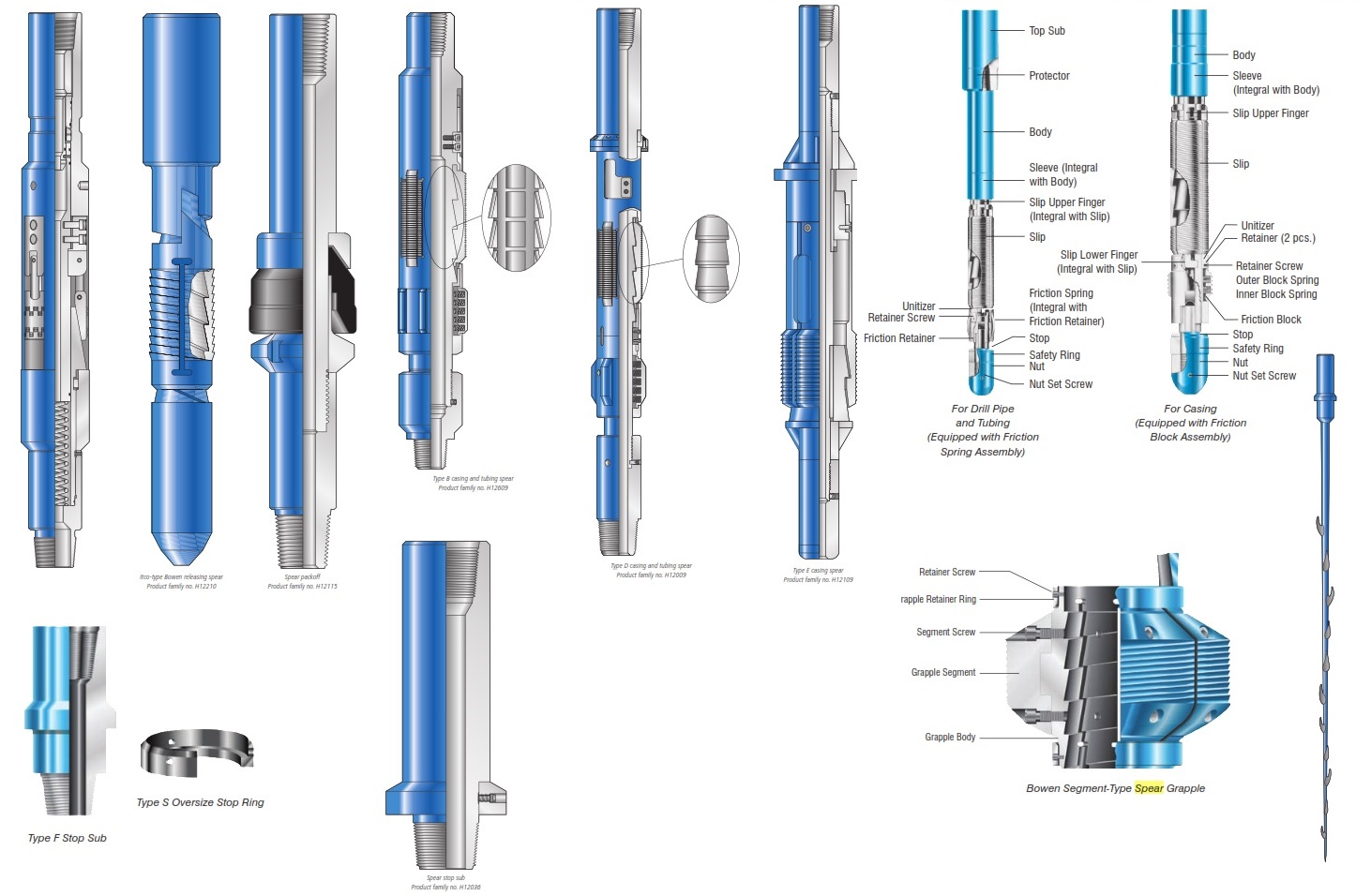 NOV offers full-circle releasing spears & Itco-type.
Baker Hughes offers harpoon cut and pull spear, hydraulic casing spear, center prong and crankshaft rope spear, type D casing and tubing spear, type E casing spear & type B casing and tubing spear.
Taper Tap Fishing Tools In Oilfield
The taper tap is run into the hole to engage inside the fish and with slow rotation, it will cut a thread inside the fish. With monitoring of torque, you will start to lower the string hence increasing the set down weight & establishing a good engagement.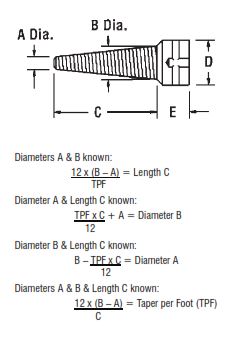 Packer Retrievers
This tool is a great tool if you have stuck well packers, Bridge plugs, or Cement retainers. It is effective, reliable, and adaptable to various sizes. You might find a washover type that mills over the slip section and is equipped with a spear to catch and retrieve the fish once got free. Also, there is the fixed blade type for packer milling which is equipped with a milling head in the catch section to work on any obstructions inside the packer.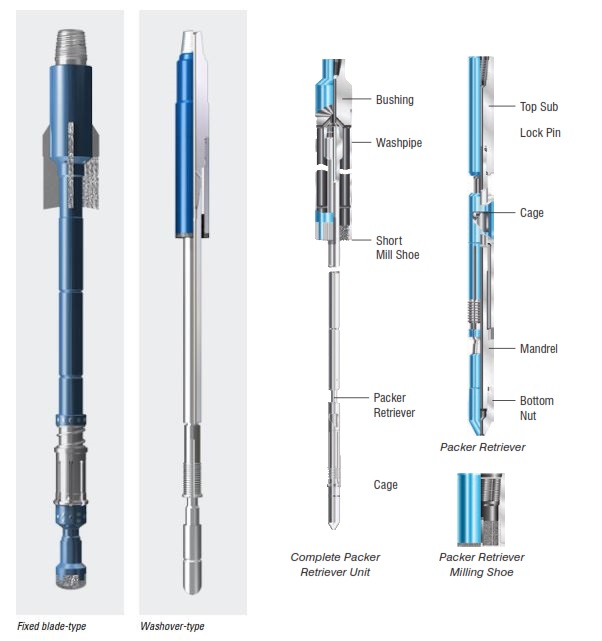 Mills & Shoes Fishing Tools In Oilfield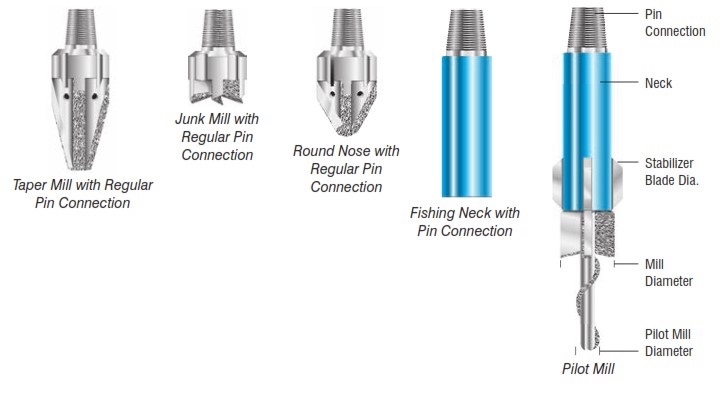 You certainly can choose the milling option due to specific reasons. A wide variety of tools is available for milling up a fish that could not be retrieved to the surface or performing a washing-over procedure.
Ditch magnets should be placed in the mud cleaning system, which is located after the shaker's screens, to catch very fine metal particles that have passed through the screens and prevent them from causing wear to the drilling rig's mud pumps.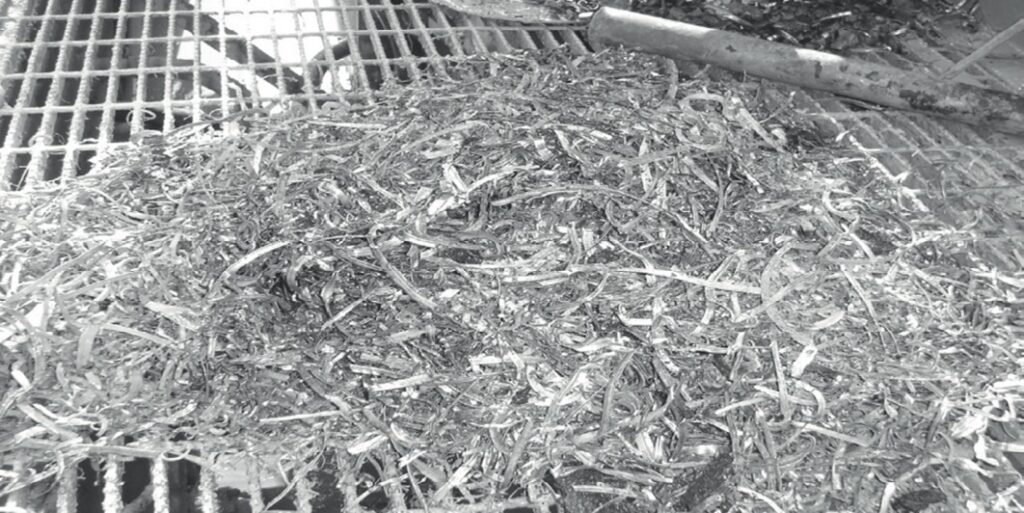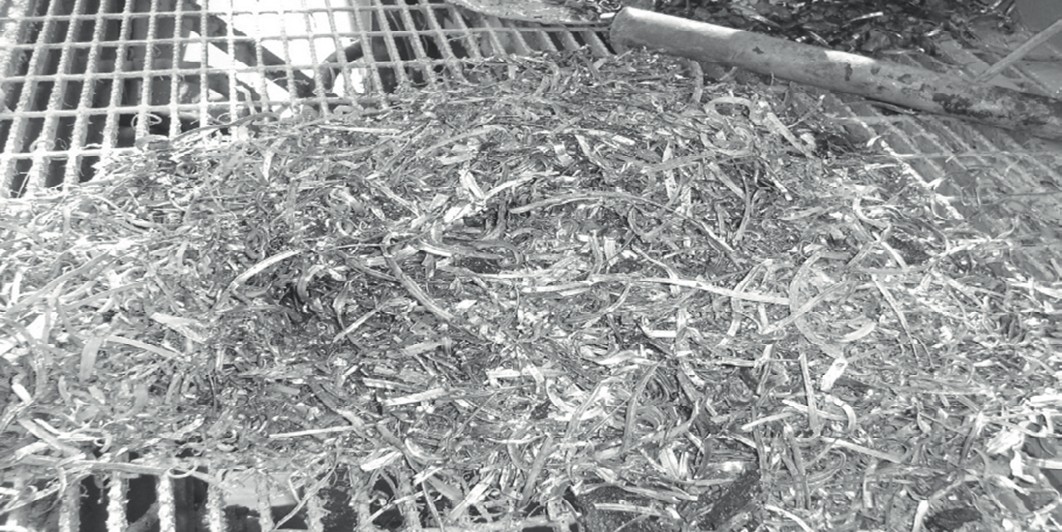 Common Application and Running Parameters For Mills
Mill
APPLICATION
TABLE SPEED RPM
WEIGHT ON
TOOL LBS
JUNK MILL
Rock bit cones, general junk
100
4000 – 10000
PILOT MILL
Tubular fish, cleaning of top
of fish
125
6000 – 10000
ECONOMILL
Packer, retainer, Cement
100
2000-8000
TAPER MILL
Casing collapses, Cleaning
of whipstock window
50-80
2000-4000
ROTARY SHOE
Washing over pipe, Drill
collars, Stabilisers, Packer
50-100
2000-6000
Application and Running Parameters
As you can see above rotary speeds vary from 50 to 125 and in some more advanced designs can reach 175 RPM. Normally, we use high RPMs with smaller diameter mills. They are mainly depend on:
mill size
mill type
hole condition
depths
the fish material
Junk Mill
Manufacturers have already developed Junk mills to be addressed with high-quality tungsten carbide to improve its performance and widen its application. Generally, you can use them for all types of general junk milling, in addition, you can use them to clear the hole from well packers, CMT retainers, and cement squeeze tools. Their sizes are available from 3 1/2″ to 28″ with 2 7/8″ to 11 1/4″ fishing necks.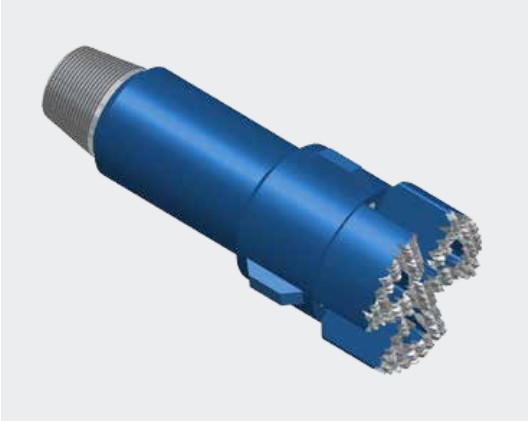 Pilot Mill Fishing Tools In Oilfield
Pilot mills are oilfield fishing tools, that are suitable for milling sections of tubular junk and also suitable for use as dress mills for the installation of a casing patch. They are applicable also for milling liner hangers and other downhole tools with a through bore.
The common sizes are 3.25″ to 17″ with 3 1/8″ to 8″ fishing necks.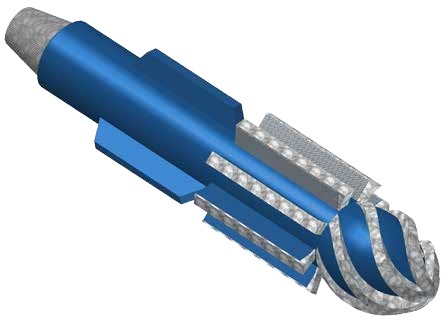 Economill / Cement Mill
The design of Cement mills is applicable for light milling: float shoe & collars, plugs, B.Plug, and CMT retainers. An open pattern cuts quickly on tubular fish, and the mill also resists plugging by cement or formation. This type of oilfield fishing tool cut steel faster and has more durability than a steel-tooth drilling bit. And, when there is a comparison with the steel-tooth bit, drilling professionals recommend the cement mill as a better option. Cement mills sizes are available in 3.5″ to 17.5″ with 3 1/8″ to 9 1/2″ fishing necks.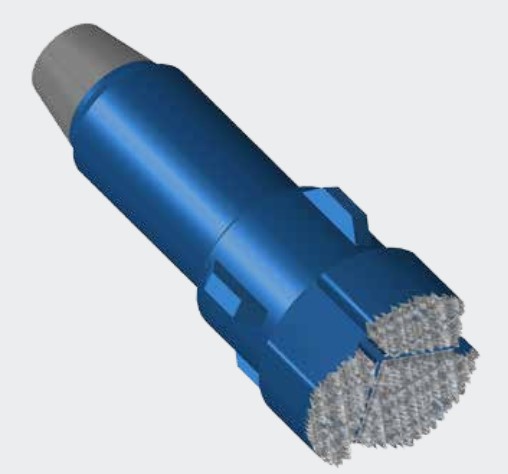 Rotary Shoes Role As A Fishing Tool In Oilfield
Due to the many types of rotary shoes, the drilling engineer shall consult the fishing contractor to choose the applicable design for his operations. But first, you should know that it is generally used when cutting fill, formation, or cement. The teeth are designed in a way to prevent excessive wear and to resist erosion by the circulating fluids. It must have ways to allow circulation for the cooling process of the cutter. if you have to use it inside the casing, the cutters shall not contact the inside diameter of the casing. So, the addition of smooth brass to the outside of the shore will solve the problem.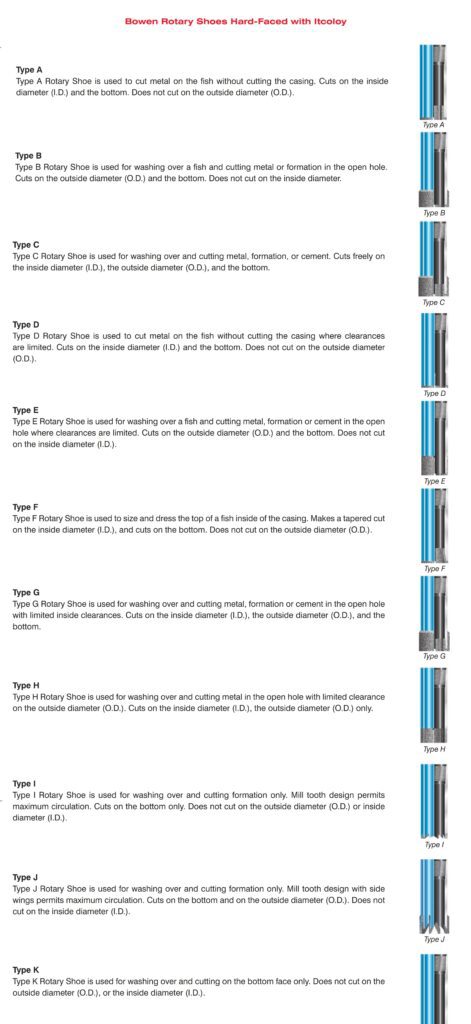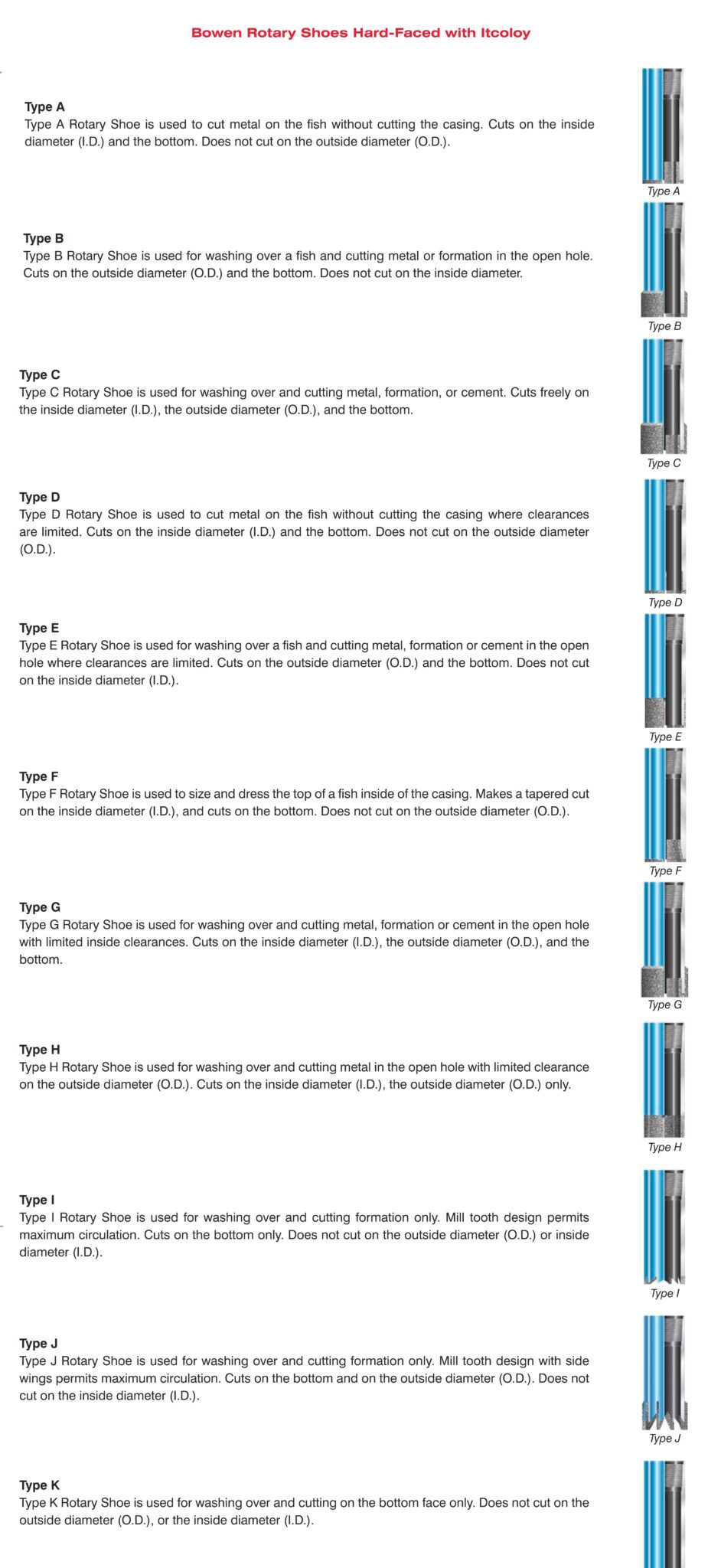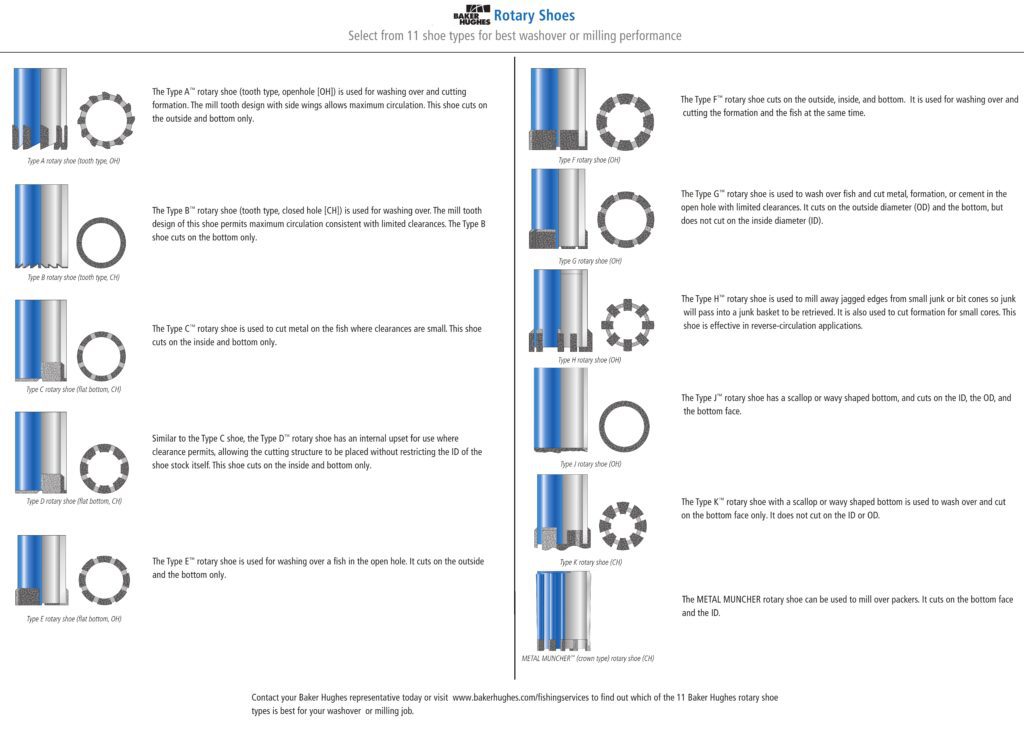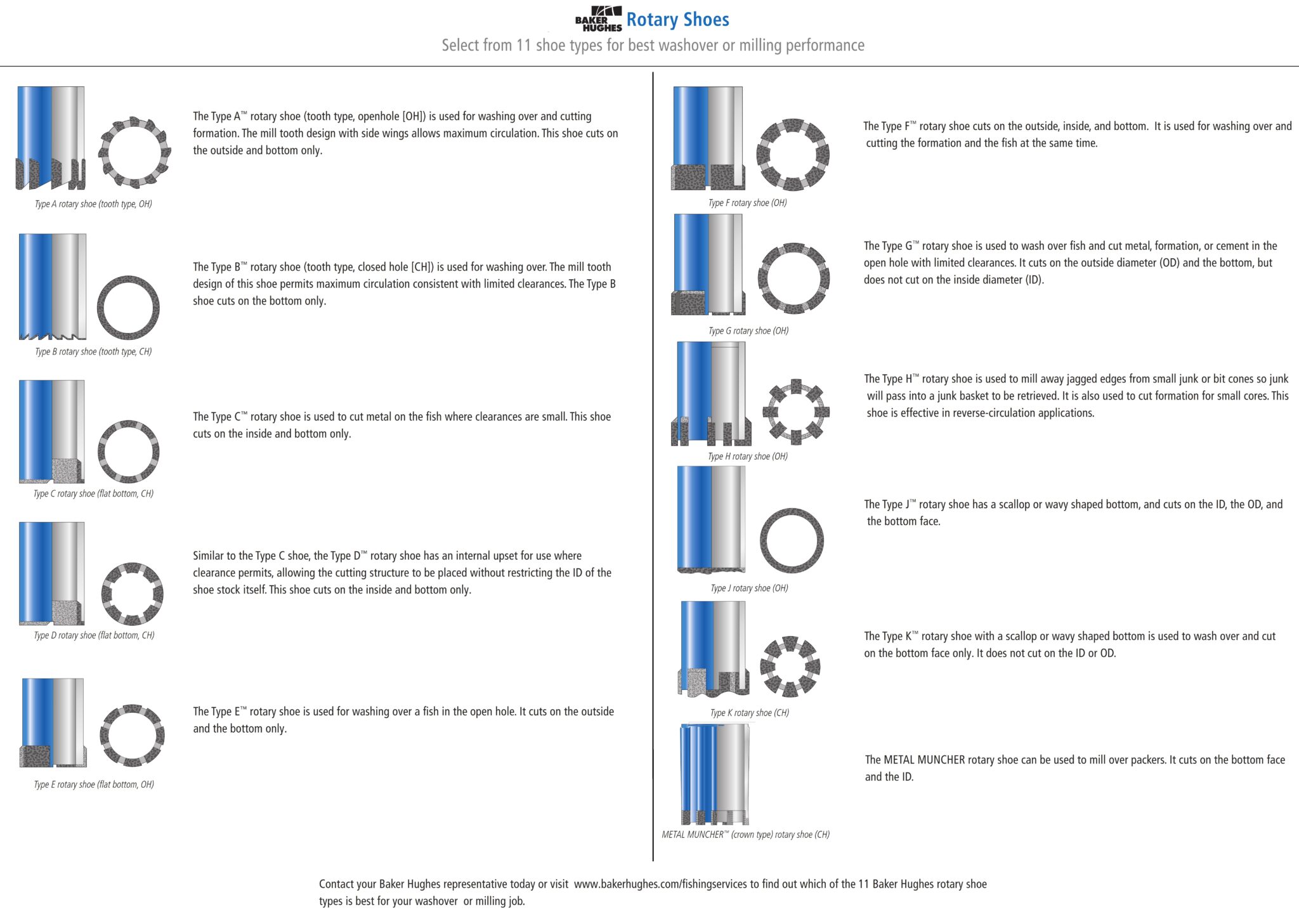 Watermelon Mills
The watermelon mill gets its name from its design. You can install it above mills and it will crush any cuttings into small pieces that can be circulated out from the well. Also, you can use it while performing sidetracking with whipstock as it will elongate the casing window.

String Mill
When we are milling junk, there may be destabilization on the bottom hole assembly. Therefore, it is better to use string mills. You can position string mills in your assembly to serve many purposes like:
Clean out wells

Ream keyseats and sidetracking windows
Opening restrictions
Remove scales
Clean "bird nests,"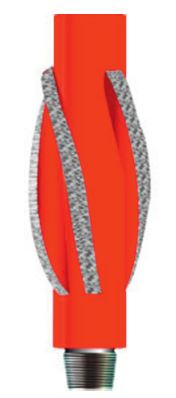 This type of mill is ideal to run in conjunction with taper mills. In addition, they have a smooth, machine-ground, full-gauge, center-bladed area design that will help to prevent damage to the casing ID.
Taper Mill
Yes, with this tool, you can enter blocked areas in the casing, tubing, or open hole and you will be able to clear this fish. Nowadays, with its improved design including dressing the mill with high-quality carbide, you can have the advantage of its stabilization and minimization of the outer tubular/casing damage.
Its main applications:

Dress under gauged hole intervals
Opening hole restrictions
Positive entry and lower stabilization for wide bottom hole assemblies
Round Nose Mill
In oil and gas, fishing operators use this tool to mill out the bottom of casing liners or casing that have been set with bull plug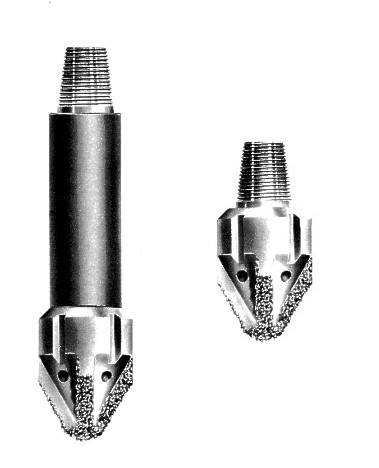 Junk Catch
Once, you have a fish that broke into small pieces or had an irregular shape, you should think about these types of fishing tools in an oilfield. In fishing operations, we are using them to remove debris or "junk", from the wellbore. Both magnets and junk baskets are ideal when retrieving small pieces of junk.
Ditch Magnet – Bowen Oilfield Fishing Tools
By installing ditch magnets in the mud ditch line, you will get the benefit of removing the metal cuttings that will result from the milling operations and that the shale shaker won't be able to catch.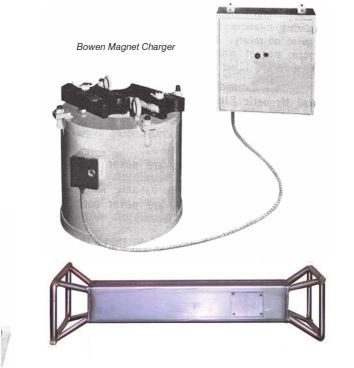 There is another part that induces a strong magnetic charge. We call this part the magnet charger. Its importance is that it can provide big charging jobs with small electric services.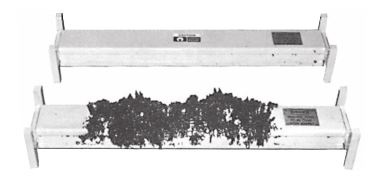 Junk Magnet
Junk fishing magnets are the best available and most effective means of retrieving small, irregular-shaped, magnetic debris. Junk magnets are frequently valuable for use prior to diamond coring to remove debris that could adversely affect the tool's performance. Fishing Magnets may be run on a pipe or electric lines in most hole sizes.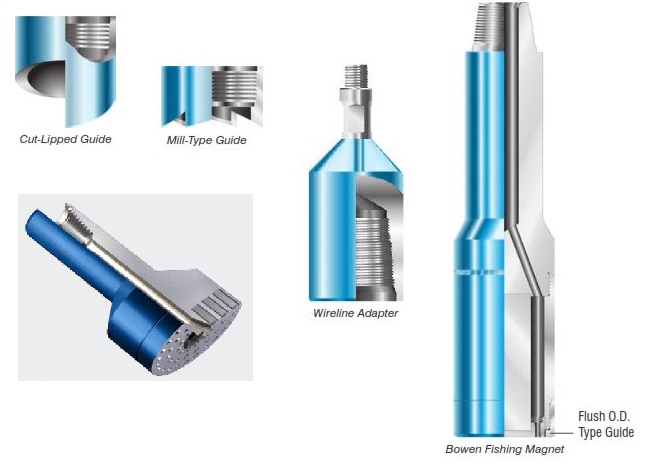 Its internal pole plate is highly magnetized, but the rest remains nonmagnetic. In addition, it may have circulation ports that will help in loosening the fish.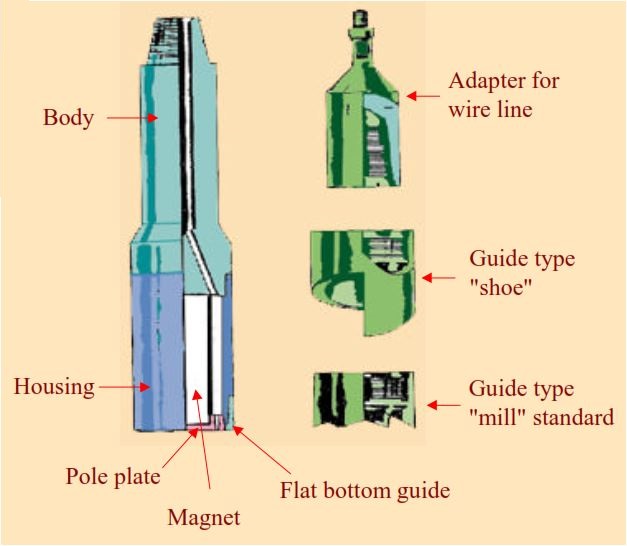 Junk Basket
The Junk Baskets are used to recover any type of small object that may be in the well bore. The successful operation of the tool requires that a core be cut from the formation. Any junk will be recovered above the core.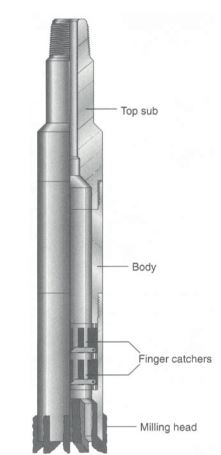 Download Top Fishing Tools Catalogs in Oilfield