Offshore drilling is the process of exploring and extracting petroleum products from the rock formation below the seabed. Regarding the subsea drilling program, offshore drilling companies render special equipment, drilling rig components, protective gear, and other essentials required in the extraction and transportation of products.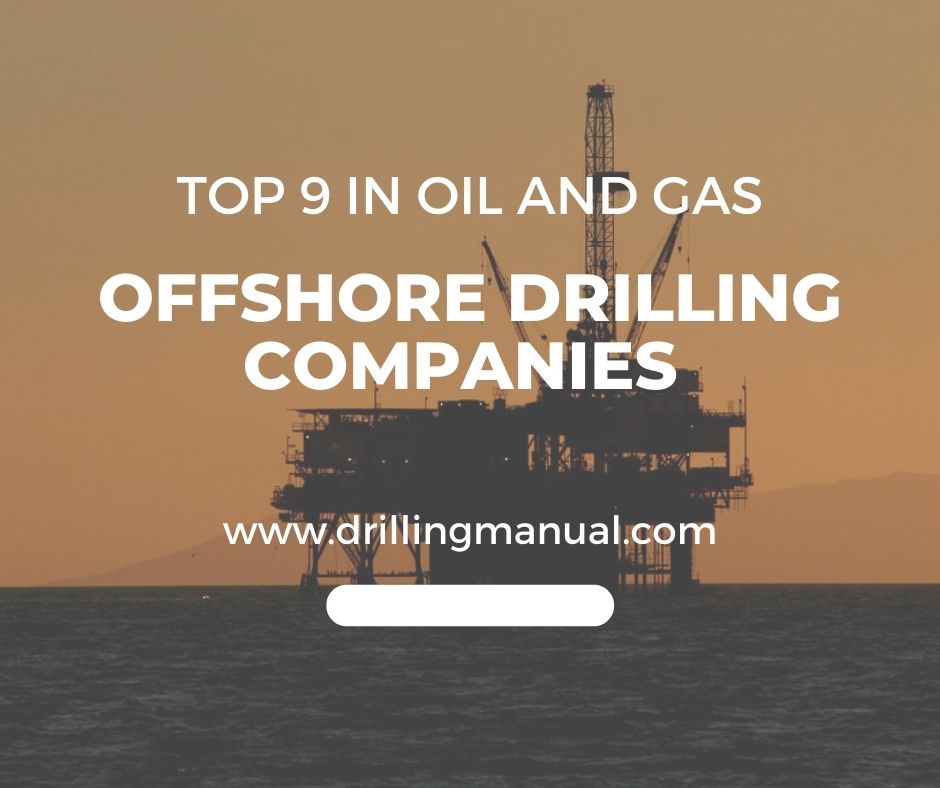 According to the survey, the global offshore drilling market is projected to rise to 56.97 billion dollars by 2026, with a 7.9 CAGR during the forecast period.
The increasing investment and interest of the government in ultra-deepwater exploration has improved the hydrocarbon reserves production. Thus, the marine oil and well rigging drift the impetus to expand the growth of offshore drilling companies in the international market.
List of top 9 Offshore Drilling Companies
In the harsh conditions deep under the surface of the water, it becomes challenging for the driller, subsea engineer, and other rig crew to perform the petroleum extraction procedures. Here come the offshore drilling companies that improvise special subsea equipment and techniques to explore deepwater reserves.
This article integrates the top companies that serve the substantial oilfield services that boost oil and gas production and promotes energy independence. Let's get into this.
Fluor Offshore Drilling Company
Fluor is an American-based multinational drilling company founded in 1912 by John Simon Fluor. Its main headquarter is in Irving, Texas. Fluor is among the few offshore drilling companies that specialize in construction, fabrication, procurement, project management, drilling engineering, and other oilfield services. Fluor provides offshore services in more than 100 countries, and its 40,582 employees are working internationally in different territories.
Services
Fluor drilling company provides efficient offshore solutions to execute the types of drilling rig operations in remote and challenging locations. It provides the best-integrated solutions, marine design, seabed facilities, coiled tubing equipment, and construction expertise to optimize offshore projects. On top of that, Fluor has proven experience in offering effective solutions for floating oil and gas production systems (FPSO).
With modular construction planning and design analysis, this company provides technical solutions to work in arctic and cold environments. Moreover, it provides innovative technology to execute complex deepwater and subsea projects.
Its main offerings include deepwater risers, flowlines, umbilicals, subsea pipelines with 56 inches diameter, subsea production systems, BOP control systems, subsea choke manifolds, and many more.
Transocean
Transocean is one of the world's largest offshore drilling companies and is a leading provider of oil and gas services at the international level. It was struck up in 1953— as an offshore company— and is headquartered in Vernier, Switzerland. The main company operates offices in more than 20 countries and has more than 30 deepwater drilling units. It's popular for providing deepwater and harsh environment drilling equipment and services.
Transocean Services
This company provides technical demanding drilling equipment and services to accomplish offshore projects efficiently. Additionally, Transocean provides 27-ultra deepwater rigs with hybrid power technology to explore the oil and gas rig deposits.
It also specializes in offering semi-submersibles with proper propulsion features to operate offshore projects in harsh working conditions. The company provides 10 such drilling rigs that smoothly run in windy, chilled, or other extreme weather.
Moreover, it also constructed ultra-deepwater drillships to execute the offshore drilling program pristinely. In short, Transocean offers its clients the most versatile fleets in the oilfield market.
Seadrill
Seadrill is one of the major offshore drilling companies in the oil and gas industry. It was initiated by John Fredrickson in 2005. The headquarter is incorporated in Hamilton, Bermuda but overseed by Houston and London operational offices. This offshore unit specializes in providing a high-quality modern fleet and safety from shallow to deepwater harsh and benign conditions.
Seadrill Services
This drilling company pledges automated and fast digital technology for offshore projects. Seadrill offers a modern fleet of all offshore drillers. Main offerings include drillships, jack-ups, semi-submersibles, ultra-deepwater floaters, etc.
Seadrill corporation also provides a wide range of water-based rigs that eases the tasks of subsea engineers and drillers. Moreover, it also maintains the health and security standards for the employees working at the drilling sites. For this purpose, the company enforces risk assessment, training development, and barrier management to ensure safe practices in offshore drilling.
Noble offshore Drilling Corporation
The Noble corporation is a major drilling offshore company formed in 1930 after separating from Art Olson. Originally, the company roots back in 1921 when Noble and Olson purchased its first drilling rig. The headquarters were organized in London, but the main office is in Texas. Noble is one of the most versatile oil drilling companies that offer high-quality fleets across the globe. It provides technically advanced equipment and opportunities for employees to work in a reliable environment.
Noble Services
This drilling company offers a variety of drilling rig types according to the water depth and locality. It operates more than 24 drilling rigs, 12 jack-up rigs, 8 drillships, and almost 4 semi-submersibles. Also, it specializes in providing water-based protective guidance to encourage safe practices.
In addition, Noble drilling corporation offers high-quality rig derricks, top drives, BOP accumulators, pipe handling equipment, mud pumps, motion compensators, and BOP control systems. With its high-capacity fleet, this drilling company encourages bulk storage and exploration of underwater oil and gas deposits.
Valaris
Valaris is one of the largest offshore contractors and well/oil drilling companies in the world. It was founded in 1975, and the main headquarters are in London and Houston. It provides optimal offshore drilling services across all the water-depths according to the customer's requirements. Valaris provides advanced technology solutions to offshore drilling operations.
Valaris Services
You are looking for the world's largest offshore drilling fleet! Right? Valaris provides broad availability of drilling technologies and equipment for water-based oil and gas rigging. The main offerings include 11 drillships, 37 jack-ups, and 5 semi-submersibles with 2 deepwater managed units.
Moreover, this oil drilling company provides innovative tripping technology that fully automates the movement of drill string into and out of the well. It makes the tripping process fast, efficient, and safer by using automation tools.
Diamond Offshore Drilling Company
Diamond offshore company is one of the leading contractors in the oilfield industry. Its roots go back to 1953. The headquarter is in Katy, Texas, and oversees the drilling operations in other countries like Australia, Singapore, Brazil, Norway, and others. This company specializes in providing reliable drilling services in subsea oil and gas exploration.
Diamond Services
This oil drilling company commits to rendering high-performance drilling solutions for subsea drillers in accordance with regulatory compliance. The most advanced fleet includes 12 offshore drilling rigs, 4 dynamically positioned drillships, 8 semi-submersibles, etc. These automated offshore rigs are acquired on the basis of water depths like deepwater, ultra-deepwater, and midwater rigs are available.
In addition, the Diamond offshore company offers reliable solutions to challenging deepwater projects through its efficient technology solutions. With its stack-view service, the anomalies in the BOP are detected beforehand. Its sim-stack service also provides real-time monitoring of BOP status and regulatory functions.
Saipem
Saipem is an Italy-based offshore drilling company founded in 1957 by Enrico Mattie. The headquarter is in San Donato, Milanese, Italy. It provides efficient technologies and construction plans for offshore drilling and makes the process facile through its innovative oilfield services.
Saipem Services
This offshore company is the main contractor for pipeline construction in different locations like Europe, Iran, Algeria, Norway, Germany, Spain, etc. The main offerings of this oilfield company are semi-submersible pipelay vessels, trans-Mediterranean pipeline, zee pipe, and others.
Moreover, Saipem constructs the world's second biggest crane vessel to make offshore drilling smooth and efficient. It deploys high-tech floaters, water-based drilling fluid systems, subsea pipelines, drilling rigs, and other technical offshore equipment to ease underwater oil and gas drilling.
Stena Drilling
Stena Drilling is one of the pioneers in the development and innovation of offshore drilling operations. Stena Drilling is a wholly-owned subsidiary of Stena AB and headquartered in Aberdeen, United Kingdom. The company plays an active role in designing offshore drilling units and deepwater drilling for operational success across the globe.
Stena Services
This drilling company improvises the availability of different high-quality types of drillships specially designed according to subsea drilling conditions. These include Stena Carron, Stena Drillmax, Stena forth, Stena Icemax, Stena don, and Stena Spey and can be employed according to the water-depth level. The company's Stena Icemax is the first dynamically positioned drillship in the world.
Also, this company manages pressure during drilling by analyzing the causes of abnormal pressure. In addition, it offers two different types of semi-submersibles for offshore drilling programs. It optimizes congenial relations with its customers and provides reliable and safe solutions to work in arctic and cold conditions.
Borr Drilling
Bor Drilling is an international offshore contractor in the oilfield industry founded in 2016. The main headquarter is located in Hamilton, Bermuda. It is one of the best offshore drilling companies that pledge safe and efficient operations. With its innovative oilfield services, it specializes in providing rig components to acquire a good deal of petroleum reserves at offshore sites.
Borr Services
This offshore unit provides a complete range of jack-ups that has a capacity to drill 30 to 400 feet in water depths. These jack-up rigs make oil and gas exploration easy and efficient. It offers almost 20 such rigs for the exploration of vast oilfield deposits. Through the pressure control equipment, it manages to optimize offshore drilling up to the mark.
Also, it provides reliable services to its employees working internationally. In hydrocarbon basins, Borr Drilling offers fascinating opportunities to deliver high-quality offshore drilling services worldwide.
Conclusion
In short, the offshore drilling providers have integrated into the growth of the petroleum industry. The offshore drilling companies provide significant rig components and tools for water-based activities. So, if you are peering for reliable and the world's best-drilling companies offering reliable job positions and innovations, then plump for the list of top offshore drilling companies mentioned above.