In oilfield drilling industries, a subsea engineer is responsible for designing and optimizing underwater systems for the safe extraction of offshore deposits. He provides technical support to install and deliver adequate water-based equipment for the rig drilling program. This article brought light to all the subsea engineer duties, functional knowledge of deepwater tools, significant requirements, and salary depiction. Let's get into this.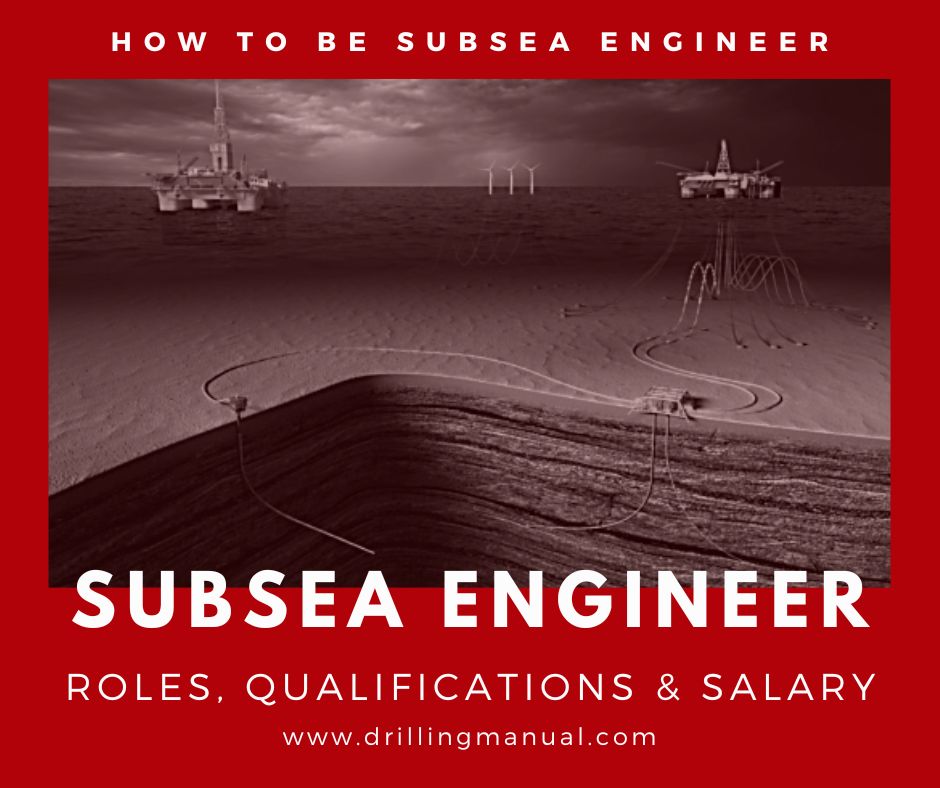 Subsea Engineer Responsibilities and Job Duties
The optimal purpose of a subsea engineering position is to improvise durable machinery, infrastructure, and offshore hardware used deep under the surface of the earth. As a professional, he coordinates other drilling engineers and crew members in executing subsea engineering applications. A seabed to surface engineer should perform the following duties.
Ensures smooth delivery of deepwater technology solutions for drilling projects like pipeline assemblies, cables, and other mechanical rig components according to the client's requirements and performance criteria.
Optimizes adequate suite of intervention equipment for the effective operations of oil well rigging and marine wellhead and supervises the running of oil and gas reservoirs.
Performs effective installation of pipeline and casing design calculations for wells. Also, supervises the water-based mud applications.
Designs 3D models of the engineering products and drawings according to the contractor's needs and client preferences and executes the work logs every day.
Performs full-scale system integration testing (SIT) and physical product testing to ensure the smooth functioning of the rig components.
Makes any improvement in the component designs and fabricates project management plans to keep the equipment up to date and up to the mark.
Maintains the Blowout preventer controls, marine riser, route selection, and other deliverables for subsea drilling operations.
Subsea engineer provides engineering support in the coiled tubing hanger systems, wellhead activities, and other technical areas of underwater drilling rig procedures.
Monitors the significant components of MUX control system, BOP control system, Bulkhead Guides, Diverter drilling system, and X-MAS Tree Cart
Optimizes the high-pressure marine unit, active heave compensator, riser handling equipment, drilling hydraulics, and associated inventory for subsea procedures.
Executes day-to day-engineering tasks according to the business's predefined plans and makes sure the operational activities meet the health and safety standards of oil and gas extraction.
Do a proper risk assessment associated with the construction, installation, and running of the subsea tools during rig operations.
Also, makes the submittal reports and documentation ready to communicate to the senior driller and superintendent.
Participates in subsea project meetings to ensure the project should be completed by the assigned deadline and within the budget.
Moreover, provides technical guidance to subordinate engineers, drafters, and other oenologists to hit the targeted goals.
Take essential cathodic safety practices for the secure functioning of subsea rig components and review the drilling procedures in compliance with the API standards.
Record tensioner wires cycles, well riser usage, and accomplish technical evaluations in the area of specialization.
Knowledge of the Subsea Technical equipment
The Subsea Engineer should have knowledge of the following water-based tools.
Must have knowledge of all the equipment used in the installation of pipelines like subsea lifting and installing frames, fittings, clamps, pipeline end terminations (PLET), remote and topside connectors, pipeline end manifold (PLEM), and other in-line structures to install the pipeline end to the seabed.
Know the proper functioning of equipment used in wellhead systems such as drilling guide base, low- and high-pressure wellhead housing, drilling casing hangers, metal-to-metal annulus sealing assembly, bore protectors, and wear bushings.
Also, understand the running and test tools of subsea wellhead systems, which include seal assembly running tool, BOP isolation test tool, multipurpose tools, conductor wellhead testing tool, and others.
Subsea engineers shall know how the riser yoke, trolley, and riser tensioners are used in marine riser hydraulic systems. In addition, he also familiarizes with the BOP control system equipment (choke manifold, BOP accumulator, kill lines, etc.).
Understand the proper functioning of multiplexer dielectric chambers, subsea electronic modules, and control panels of MUX control systems.
Be aware of the components in diverter systems. The essential equipment includes HP compressors, diverter system valves, drilling fluids types standby APV diverters, choke, and control measures.
Also, know the protective measures to operate deepwater drilling activities. Have a proper understanding of HSE safety cases in offshore procedures in the oil and gas fields.
Know how to repair the engineering inventory in case of any malfunction.
Be aware of the water-based mud in oil and gas wells. For instance, he should have proper knowledge of dispersed and non-dispersed mud drilling mud and other mud testing equipment.
How to become Subsea Engineer-Requirements & Qualifications
In today's offshore sector, you need to hold a subsea engineering degree, at least on Bachelor's level, and some years of experience to get appointed as a subsea engineer in petroleum companies. So, now discuss the basic qualifications and requirements to ace marine engineer positions in big offshore companies.
Qualifications
If you have yearned to acquire a marine engineer position in drilling rig offshores, you must have:
Minimum graduate degree in mechanical, pipeline, marine, or petroleum engineering.
A Master's level degree is preferred by many oilfield companies.
At least 5-10 years of experience as an Assistant subsea engineer.
Professional licenses or certifications are desirable.
Completion of training sessions as a subsea engineer is preferred.
Requirements
Must know the working of modeling software to design 2D and 3D drawings. Also, be an expert in reading technical design models and maps.
Have proper knowledge of underwater systems and fluid dynamics for implementing engineering tasks effectively.
Comfortable working in diving equipment and protective gear while performing drilling rig activities.
Also, flexible and agile enough to work for long hours deep under the surface of the earth.
Must be self-motivated to acquaint with harsh weather conditions and deliver high-quality work.
Must have the technical experience to make the right use of subsea equipment.
Have exceptional communication and leadership skills to coordinate with the senior drillers and other rig crew members.
Effective analytical and problem-solving skills to take immediate action in case of any emergency.
Salary
Their wages depend on many factors like education, experience, operational skills, certifications, and the oilfield organization.
Glassdoor showcases that a subsea engineer can make $ 105,425 per year in the United States. Payscal.com has stated that the average salary of a subsea engineer is 104,943 USD.